The skyline of Reykjavik -- as seen from approaching ships -- is dominated by its sleek and towering Lutheran church, Hallgrímskirkja: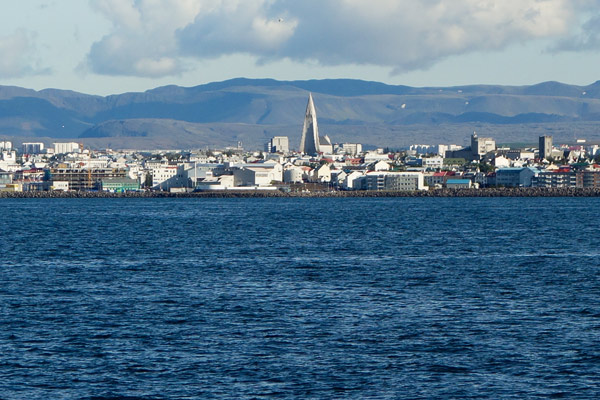 Over half of all Icelanders live in or near Reykjavik. Since there are only 320,000 people on the island, it remains a small and easy-to-manage capital city. Reykjavik faces a century-old, workaday harborfront with busy dry docks and a hardy fishing fleet. Cruising is on the rise here and a new harbor just outside of town hosts about 80 ships a year. A big topic of discussion locally is how enthusiastically the cruise industry should be encouraged.
The view from my hotel window was of this busy fishing harbor and hardworking ships being dragged in and out of the hardworking dry docks: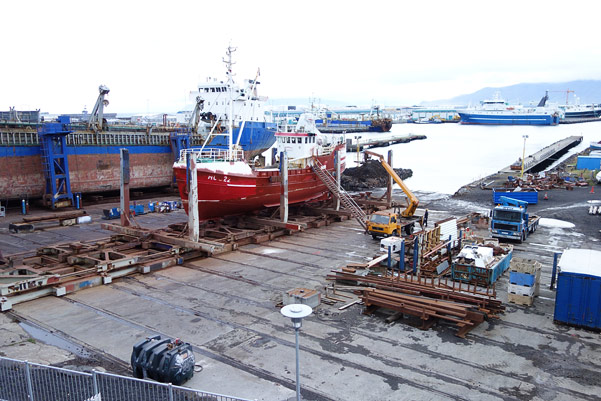 As in great cities all over Europe, harborfronts are transitioning from a purely industrial zone to a more people-friendly zone. Given Iceland's humble economy and recent economic crash, the vision is measured.
The big news is Reykjavik's dazzling new Harpa Concert Hall and Conference Center. The word Harpa has two meanings: the stringed musical instrument, and (from the Old Norse calendar) the spring season, a time of rebirth. It was a much-needed addition to the city's cultural infrastructure. Until 2011, the national symphony performed in a movie theater. The center was originally the vision of a local banking tycoon and it was intended for what some considered "elitist activities" -- the opera and symphony. But he went bust during the economic crisis and the state and city took it over. Now it's an 1,800-seat cultural palace with a mandate to bring diverse and affordable arts and culture to the populace. But, as happens with farsighted investments in culture and a nation's heritage all over the world, this hall still draws complaints. Old-timers grouse that for the cost of that fancy building they could have bought 30 big fishing trawlers.