Actually signing up for and taking one of my own tours gives me a very important insight into the day-to-day lives of our tour members. Is every day's itinerary designed to get the absolute maximum experience for our travelers? Are the gluten-free folks being taken care of? Is the bus comfortable? When it comes to hotels, is "characteristic" coming at the expense of "comfort"? How's the guide connecting? Three days into this tour, it's clear to me: Our guides and tour operations staff have this one nailed.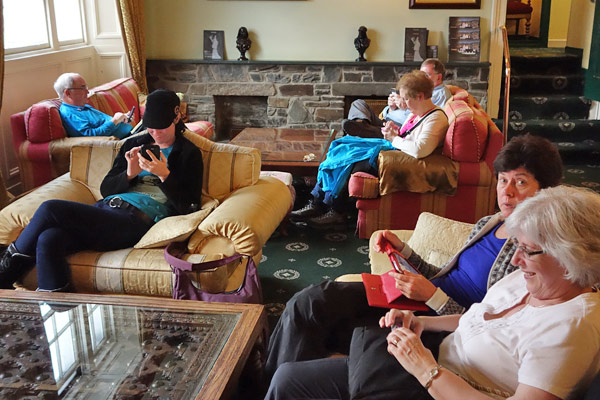 After a busy day of sightseeing, most Americans need their Wi-Fi fix to be in touch with life back home. In remote areas, Wi-Fi can be iffy. Very often, a hotel provides it, but all the ancient stony walls mean that it works best in the living room. So, typically, after dinner, it's the ritual gathering of the iPads and laptops by the fireplace like this.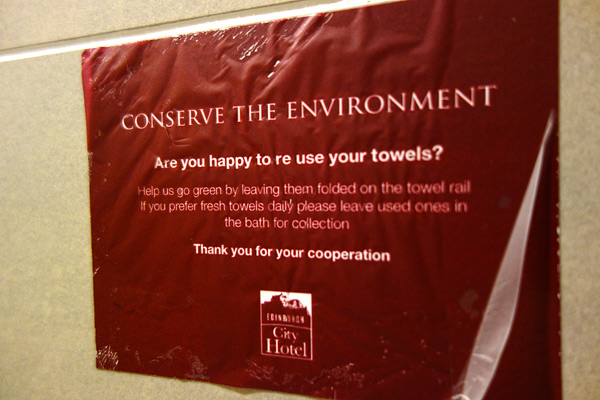 Travelers know they are taking a toll on the environment by jetting around the world. They want to minimize their impact in little ways. All over the world, hotels have put up stickers like this one in the bathrooms -- promising that to help save the planet, you can minimize needlessly washing things by hanging up your towel to drip-dry and re-use another day. If you want a fresh towel, just throw the dirty one on the floor. Most of us appreciate this opportunity -- small as it may be -- to save a little energy by reusing our towels. And so, for years, I've carefully hung my towel back up. But I can't remember a hotel that followed through with their offer. Housekeepers are hell-bent on replacing everything, as if that's the way to win a traveler's approval. Please, hotels: Tell your staff to let us re-use our towels. It helps assuage our climate-change guilt. What's your take on this?