Refugees are a big issue in the Holy Land. In 1947, after the Holocaust and the end of WWII, the United Nations helped found the modern state of Israel. And Jews, long dispersed throughout the world, returned to their ancient homeland. In the process, hundreds of thousands of Palestinians were displaced. (Some Jews were displaced, too, but far more Palestinians were.) And to this day, both peoples struggle to find an equitable and peaceful way to share what they each consider to be their rightful homeland.
Among the many refugee camps in the West Bank, the biggest -- with over 20,000 people -- is Balata, just outside of Nablus. The original ten-foot-by-ten-foot platting -- marking where tents were pitched in 1948 -- survives. Only now the tents are gone, replaced by multistory cinderblock tenements.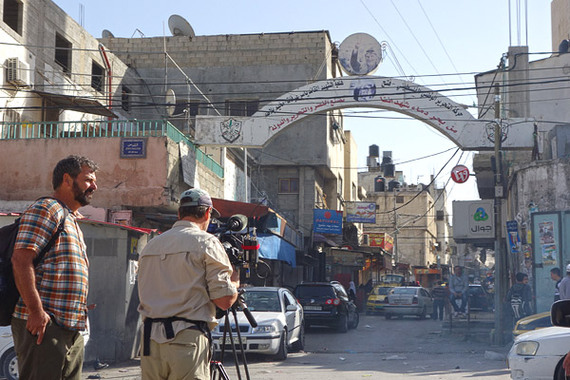 This gate welcomes you to the biggest refugee camp in Palestine. The world is full of refugee camps, and wandering here, it's hard to imagine life with such a dense population, being a parent with high-demand kids and no money, and the lack of privacy.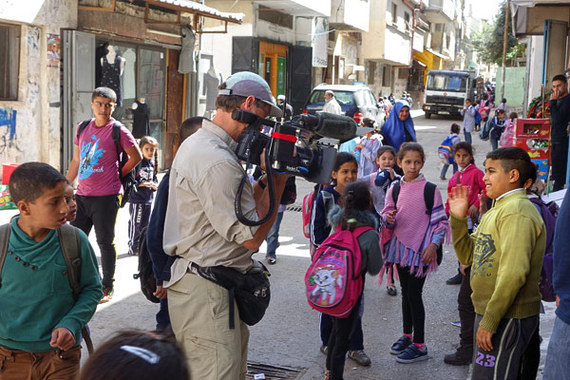 As you can imagine, an American TV crew with a big camera was big news to the kids of Balata. For over 60 years, the United Nations has kept a calming and helpful presence. When the UN-run-and-funded school lets out, the streets flood with children happy to practice their English with a rare tourist venturing into their world.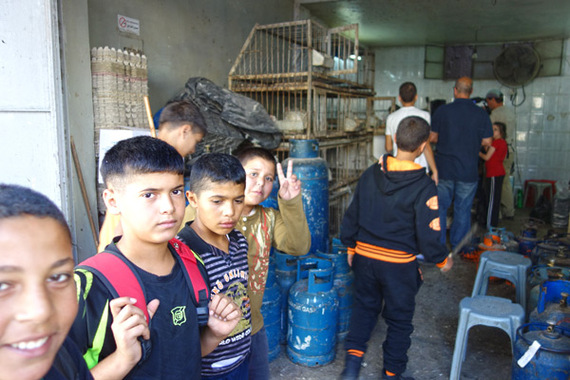 On my scouting visit, I saw a little boy drop by the chicken shop, chose a chicken, and watch it killed, drained, de-feathered, gutted, washed, and popped into a bag for the boy to take home for dinner. Returning with our camera, I wanted to duplicate that cute little scene. We chose a boy after a quickie audition on the street and let him re-enact the chore for our show. It was great TV, our little star enjoyed the attention, and he walked very proudly home, chicken swinging in its plastic bag, with a heck of a story to tell his mom.

I was sitting on a curb working on my script when a series of cute kids stopped by to see who had dropped into the neighborhood. This clip is a little of that interaction. It ends with a big brother coming in to shut me down. (I don't blame him to be wary of some stranger filming little kids on the street.)
By the way, there's a common image of Palestinian kids with toy guns shooting imaginary Jews. I saw lots of that, and it was a bit disturbing to me. But then, in the Jewish West Bank settlements, I also saw Jewish kids with plastic guns gunning down imaginary terrorists. And it occurred to me that, if we're being honest, what American man today didn't grow up with a toy gun happily shooting Indians or Soviets in their imagination? Whether it's cowboys and Indians, Commies and Capitalists, or Jews and Palestinians, little boys throughout the world are raised with a toy gun in their hands to shoot their parents' bad guys.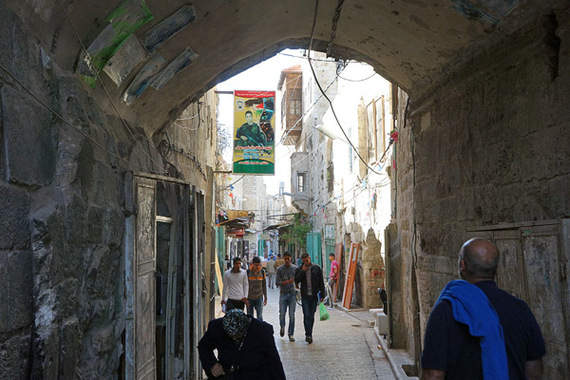 Balata is at the edge of the city of Nablus. Nablus is famous for its fighting spirit (and, consequently, has been hard-hit in recent flare-ups and wars). The city is encrusted with posters honoring young men killed in the struggle (men most would call "terrorists," but many here would call "freedom fighters"). I first visited Nablus on a Friday (Muslim holy day), and the city was closed up tight as a drum. Without any people or open shops, the martyr posters decorating the empty streets seemed much more prominent. With this visit, it was a regular workday, and the city was vibrant and a treat to explore. In fact, of all the cities we visited in Palestine, Nablus is the one I was most charmed by.
I'll continue this Holy Land series until November 21st. Then, to celebrate my homecoming, I'll give a live, free slideshow lecture on Thursday, November 21st at 7 p.m. P.S.T. in Edmonds, Washington. You can attend in person (registration required)...or watch the live webcast from anywhere in the world (no registration required). Learn more at Rick Steves - Holy Land: Israelis and Palestinians Today.