The Route du Vin is the Wine Road of Alsace. This region, between the Rhine River and the Vosges Mountains, has historically been fought over between France and Germany. The Germans believe the mountains are the natural border, while the French think it's the river. It's interesting to think that this is a kind of continental cultural divide -- with Romance cultures to the south, and Germanic to the north. Perhaps that explains how every other city here feels like it's been rebuilt after a terrible war. Using Colmar as a springboard, it's easy to tour the region.
The Vineyards of Alsace
Alsace's Wine Road is blanketed with lush vineyards and dotted with charming towns. You can hike, bike, hire a taxi, catch the bus, or join a minibus tour like I did (a half-day for €60).

Those visiting Alsace's Wine Road (Route du Vin) make a point to try the local wines. And local vintners offer a warm, and liquid, welcome. Here in Eguisheim, my guide, Jean-Claude Werner (another good French/German name in this region where the two cultures have for centuries overlapped), takes me into the cellar of the Emile Beyer winery. Emerging from the fragrant cellar, I'm happily ambushed by enthusiastic travelers who, like me, were sampling wine at Emile Beyer because of our France guidebook.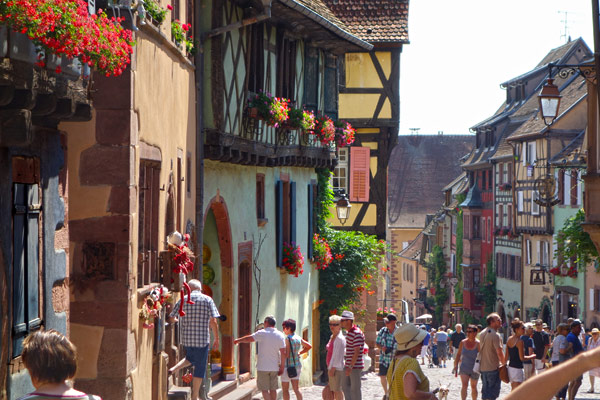 Adorable Kaysersberg
The Route du Vin is dotted with delicious little towns. Kaysersberg is one of the most charming.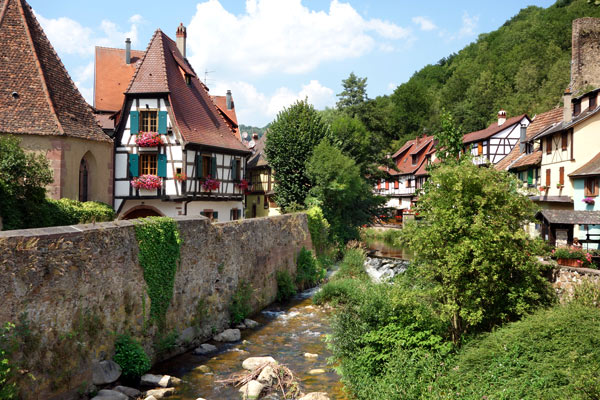 Channeling water power in Alsatian villages
Alsatian villages nestle in valleys on small rivers, which medieval villagers hijacked, broke into canals, and used to power their mills. Today, when you explore these towns, it's fun to imagine what a blessing water power must have been.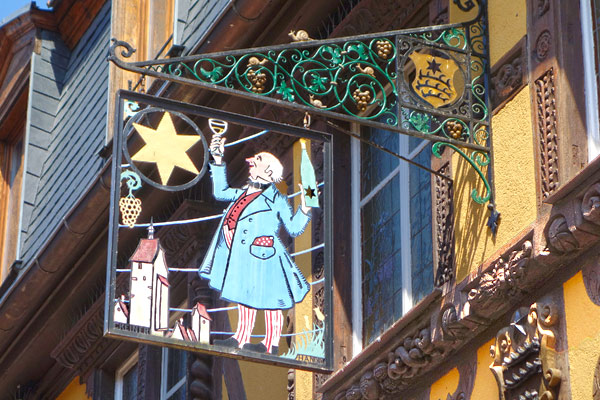 The original gourmet
This sign marked the mansion of the Kaysersberg gourmet. I never realized the derivation of the word "gourmet": Each city in a wine region (like Alsace) had a man appointed to rate and price wines, and serve as the middleman between vintners and the wine-drinking public. He facilitated the sale of wine...and knew that having quality food in association with the wine would help. Eventually he became the man with the finest food in town, or the "gourmet." The actual job of the gourmet survived in Alsace until the 1930s.