Israel feels as affluent as the USA. There is the ever-present security dimension of the country, which is hard to escape but after a while becomes routine. Flying in and crossing borders comes with lots of questions and amazing security (although I could leave my shoes on and take my water bottle through airport security). I felt very safe. There is no language barrier. And the infrastructure for travel and tourism is about like what you'd find in Europe. Distances are short, taxis are plentiful, Wi-Fi is everywhere. It felt about as expensive as one of the cheaper European countries. The weather was great this time of year (what you'd expect in California in the spring) and there were almost no tourist crowds -- except at popular pilgrimage sights, which could be mobbed.
Tomorrow I cross Israel's "Security Fence" and enter a land where that fence is called "The Wall" -- Palestine. I had great guides in Israel who gave me that country's perspective. I'll have three different guides for about a week of travel in Palestine to give me its peoples' viewpoints. It promises to be quite a powerful experience. Please share my invitation to any friends curious about this part of the world -- ask them to like me here on Facebook and travel along. Shalom.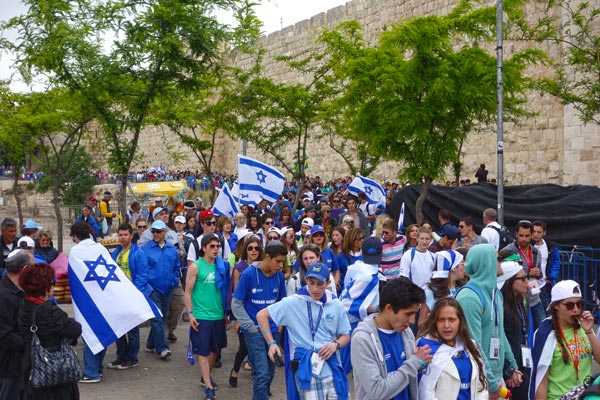 Patriotic parades with plenty of Israeli flags circled Jerusalem's old town as Israel celebrated 65 years of independence.