On a furiously cold evening here in New York City, I found myself sauntering into one of Seventeen magazine's hottest events. Swept up in a crowd of die-hards, I learned that not only had these "PLL" fans skipped school to see their idol, but they also petitioned to get her on the cover. What inspiring starlet could provoke such dedication, you ask? Easy answer: Troian Bellisario.
This "Pretty Little Liar" might be consumed by lies and secrets on screen, but here in the real world Troian's honesty is indisputable. As her fame reaches new heights with the fourth season of ABC Family's hottest show, Troian has used the limelight to ground herself, sharing with the world the crushing struggles she faced as a teenager.
After signing over 300 copies of her first magazine cover, the 28-year-old role model took a step back to give me the scoop on her past, present and future. Turns out, a lot has changed since she started on Pretty Little Liars four years ago and she's learned a few lessons along the way.
From staying drama-free to navigating relationships, see below for Troian's top five secrets for surviving your high school years.
1. You can choose to tune out the drama.
"It's an ongoing struggle. I try to remain positive, try to keep my feet on the ground and focus on what is really important. Sometimes drama can be just that -- drama. It's unnecessary. If you tune into what you are grateful for and what you have in your life, that you're blessed, then I think the drama kind of melts away."
2. Sometimes, you need to hit rock bottom in order to make a change.
"Everybody's rock bottom is different. For me, there were actually a couple different moments where people came forward to me and said that they thought I needed help, but I wasn't ready to hear it. Then there were moments in my life where I simply could not have continued without getting help. It's a constant process. It's not any one thing."
3. Find an "escape" that makes you happy.
"I play with my dog. I write. I go on hikes or see my friends."
4. The best relationships are the ones you can grow into.
"Be present. Acknowledge that it is always a constant choice. Don't settle, but always be trying to move your relationship forward. And be curious about who you are in a relationship with. Don't think that you know the person, but continue to be curious about who they are growing into, and then grow together."
5. Don't take things so seriously.
"Chill out! Take it easy. Enjoy [being a teen]. Just go see a movie!"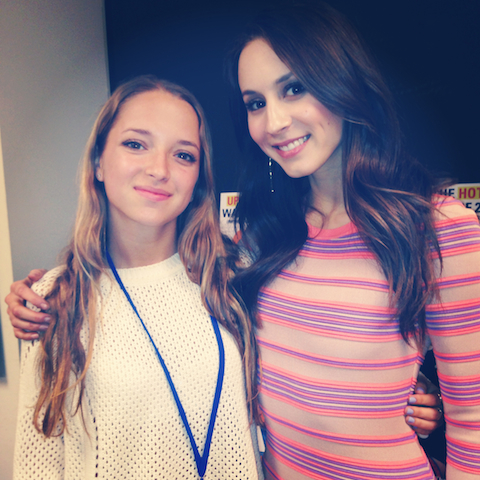 Photo credit: Riley Griffin