Like all things, from sliced bread to cell phones, modern technology eventually benefits all walks of life. Everyone has a cell phone. However, not all things create as much of a buzz or are as easily marketable or replicated. Good food -- food that is good for you -- is one of those things. The buzz isn't quite loud enough to make it a permanent fixture in everyone's life, YET. But we are getting there.
It is wonderful to see healthy food chains sprout all over, Sweetgreen and Chop't, even Chipotle in many ways. Food that is good for you is beginning to take hold in all communities. We are not as compelling as the cell phone but we are on a roll.
The farmers' market visit remains what I call 'a Gucci social event' complete with out-of-reach prices for most folks in the District. In rural communities, many of whom are still set in a time warp of the days of old, it is the norm to barter your eggs for someone else's tomatoes, or some corn for some cheese, a delightful thought. In the city, the less endowed are forced to eat poorly because they simply cannot afford better. Also, as is the case for most of us, carrots aren't as appealing as fast food. But that's another challenge altogether!
Thankfully, good things are happening. Growing your own is creeping in to our urban lives. Community gardens are on the rise. And this year, thanks to some incredible citizen organizers and proponents in the city government, more of D.C.'s residents will have access to fresh foods from new farmers' markets popping up in places that truly need them.
In December the folks behind DC CHEW announced a new market at Skyland in Ward 7 at the intersection of Good Hope Road, Naylor Road, and Alabama Avenue SE. CHEW, which stands for Community, Harvest, and Education in Ward 7, will be a place where the community can meet and experience everything a neighborhood market has to offer. Visitors will be able to buy sustainable, locally produced food, watch chef demonstrations (you might even catch me there!), learn healthy eating tips, and enjoy entertainment from neighbors. It is just one example of how the city is fighting to feed those who live in or near what we call 'food deserts' -- places where residents simply do not have access to fresh, nutritious food. Living and working in NW D.C. has spoiled me in a lot of ways, but my time spent with farmers, with DC Central Kitchen and with the less privileged of the city has made me much more appreciative of what the city has been doing to promote farm fresh foods in other parts of our hometown.
On the upside, DC CHEW is not the first and surely will not be the last farmers' market in the too oft forgotten parts of D.C. There are many other options east of the river that people don't know about. Most of these markets offer D.C. residents living on welfare a chance to buy fresh produce and learn more about eating healthy. Farmers' markets such as the THEARC, the Ward 8 farmers' market, accept EBT or SNAP from the DMV and any other state. They also accept WIC coupons (Farmers' Market Nutrition Program AND Food, Vegetable Coupons [FVC] and Senior Farmers' Market Nutrition Program vouchers. DC Central Kitchen has launched Fresh Corners, a wholesale delivery service in conjunction with the D.C. Department of Small and Local Business and D.C. Hunger Solutions delivering nutritious options to corner stores and other small retailers in Wards 5, 7 and 8. They will purchase fruits and vegetables from local farmers and help create opportunity in our city's food deserts.
There are a few programs that are offered nationally for states to give low-income residents federal grants to food, health care referrals, and nutrition education. Two of the programs from the Department of Health are the Women Infant and Children's (WIC) program and the Senior Farmer's Market Nutrition Program (SFMNP). Both of these programs provide low-income women, children and senior citizens with tools to help them improve their health and educate them on how to eat better. The programs also provide coupons that can be exchanged for fresh produce at the markets who accept them. Thus far in D.C. the programs have reached a wide population and those numbers are only going up as more markets open in neighborhoods that need them.
In 2012 keep an eye out for more openings as the city approves funding for them. If you think your neighborhood would benefit from a market of your own, speak up. I have been going to our city's markets religiously for years and I know they only happen when the community demands them.
This Friday, April 20 join RIS' Sous Chef Sarah Biglan at the Capital Harvest on the Plaza (CHoP) kickoff on the plaza of the Reagan Building at 13th & Pennsylvania NW. At 11am a ribbon cutting will kick off a season of good food and starting at 11:35am Chef Sarah will be doing a demonstration with one of my favorite signs of spring - asparagus.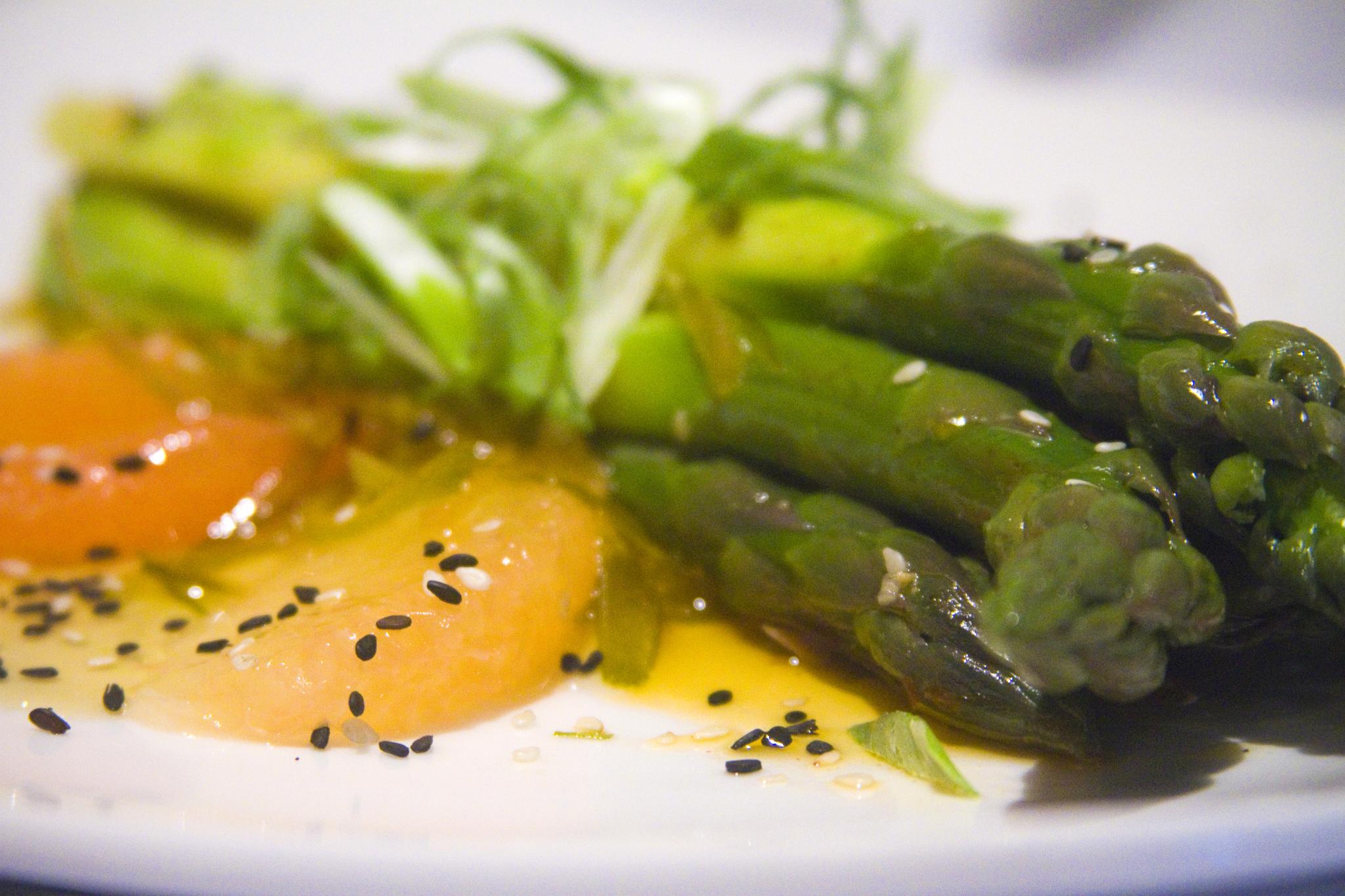 RIS Asparagus and Gingered Grapefruit Salad Serves 6
2 cups miso vinaigrette
2 cups ginger glaze
42 pieces of large asparagus
salt
36 sections of pink grapefruit, 4-5 grapefruit
¼ cup mixed black and white sesame seeds
2 scallions, cut thinly at an angle
Miso vinaigrette Makes 3 cups
3 inches fresh ginger, peeled and finely diced
1 tablespoon garlic, minced
1 tablespoon miso
1 ½ tablespoons chile paste with garlic (essential ingredient, found in Asian markets)
½ bunch cilantro, chopped
3 ounces sherry
4 ounces rice vinegar
5 ounces fish sauce (nuac nam, also found in Asian markets)
2 ounces lime juice
1 tablespoon honey
1 ounce sesame oil
4 ounces peanut oil
Combine all of the ingredients in a bowl except for the sesame oil and peanut oil. Whisk in each oil one at a time. This dressing will last indefinitely, covered in the refrigerator.
Ginger Lime Glaze Makes 2 cups
8" ginger, peeled and cut into very fine threads
zest of 4 limes
1 ½ cups tarragon vinegar
¾ cup sugar
Combine all ingredients in a non reactive pot. Bring to a boil. Remove from the heat and let sit for 5 minutes to infuse flavors. Bring back to a boil and repeat process. Bring back to a boil for a third time. Set aside until cool enough to cover and refrigerate. The glaze will last indefinitely and makes a great iced or hot tea base.
Make the miso vinaigrette and ginger glaze ahead of time and keep in the refrigerator. Ever so slightly peel each stem of asparagus to eliminate any stringy toughness and to insure even cooking.. Blanch in a large pot of boiling salted water until the stems just bend, 3-5 minutes. Remove immediately to an ice bath to stop cooking and preserve green color. Remove from the water as soon as the asparagus is chilled and drain. Asparagus is much more flavorful if not served ice cold so keep at room temperature if just before service. If not, refrigerate until 10-15 minutes before ready to use. Section grapefruit into a strainer over a bowl. Squeeze out as much juice as you can from the remaining fruit pith. Make sure the sections are whole and cleaned of all pith. (it is best to buy a couple of extra grapefruit, to assure enough perfect sections) Place the sections into a separate bowl and cover with ginger glaze. Drink the fresh squeezed juice. To arrange the salad, cover the asparagus with a cup or so of the miso vinaigrette, saving enough to dress the bottom of each salad plate. Let the asparagus soak in the dressing for a couple of minutes. Meanwhile, cover the bottom of each salad plate with a layer of the miso vinaigrette. Arrange a log pile of 7 asparagus spears in the center of each plate. Arrange 3 grapefruit sections fanned out on each side of the asparagus. Sprinkle with scallions and sesame seeds.