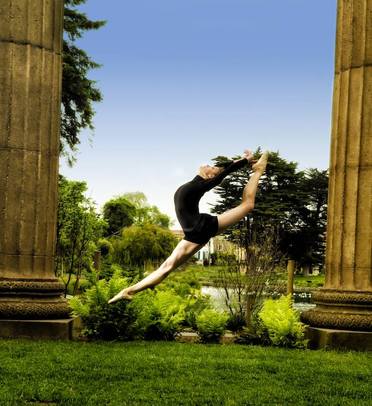 Dancer: Jillian Davis, Photographer: Michael Kendrick
Last month, New York Times dance critic, Alastair Macaulay, wrote an article on the dearth of American ballerinas. Some dancers felt that his ruminations were unfounded and the article caused an uproar on many of their Facebook feeds and blogs. But, a few weeks later, from across the pond, came an article featuring Carlos Acosta, Royal Ballet's principal guest artist and his feelings about the lack of British ballerinas. Since this article was written by one of their own, dancers did more head scratching than head banging when they read it.
In the article, Mr. Acosta says, "If you don't have talent in your own backyard, you must go and find it." Certainly it appears that many companies in the United States and England are already doing so. For example, at American Ballet Theatre, christened in 2006 as "America's National Ballet Company", only two of its ten female principal dancers are American. The others are South American (two), Russian (five) and a South Korean. Similarly, in the Royal Ballet, this recent article points out that only one of its female principals is British even as its writer offers up a "who cares" attitude about the lack of homegrown ballerinas.
So why are the United States and England losing the ballerina game so severely to countries like Russia and those in Latin America? There are differences in training but all of these countries possess stellar schools. While Mr. Macaulay never explores the reasons for the problem, Mr. Acosta is on the right track when he ponders, "Maybe it's because their parents don't know how to educate them in this [ballet] world?"
In fact, parents don't know how to educate their budding ballerina because they have no idea such potential exists right under their feet. Like any other prodigy, a ballerina is born and then trained. No school can create a ballerina if certain attributes don't already exist. Yet, if the attributes are not recognized, how can they flourish? Somehow, someway, we must educate parents to understand what a budding ballerina looks and acts like. And it's probably not what they think.
Contrary to the intuition of non-dancers, potential ballerinas are not young girly-girls. Rather, a ballerina usually comes out of the womb with wiry limbs, coordination beyond her years, and a restlessness of body, mind, and spirit. She is a tomboy.
In fact, time and again, ballerinas have said that they were tomboys in their youth. They climbed trees, took risks, and played any number of sports very, very well. They may have played dress up, but they wielded a sword while wearing their tiara.
Since we can safely presume that Russian and Latin American parents do not give birth to more beautiful tomboys than American and English parents do, we can also presume that it is what they do with their rambunctious girls that makes them win the ballerina number game. Russian and Latin American parents are more likely to take their athletic daughters to dance schools in order to tame their wild side with lessons filled with discipline and grace. Meanwhile, our sports and gender-equality obsessed countrymen and women are more likely to ferry them to sports teams.
Let's face it, few typical non-dancer parents in the United States would look at their daughter jumping to get her Nerf ball down from the inside of a light fixture and say, "Wow, that high natural jump would be great for ballet!" They would much more likely shout, "Woohoo, we've got the next UConn Girl's Basketball team star right here!"
Over the years, I have seen many interviews with American ballerinas who have said that they were tomboys when they were young. The first article that I remember reading on the topic was decades ago when I was a hopeful ballerina myself. It was in 1981, and the People Magazine article on the then New York City Ballet's wunderkind, Darci Kistler was titled, "At 17, a California Tomboy Becomes Balanchine's Newest Baby Ballerina,"
Two of America's ballerinas whom Mr. Macaulay agrees should be called ballerinas, Gillian Murphy and Sterling Hyltin are both self-proclaimed former tomboys. And a tomboy, too, was Darcy Bussell, the British ballerina that Carlos Acosta so wishes was still dancing so that he could have a Brit "of a sufficient stature for him to perform opposite" in his new production of Don Quixote.
And, while both Ms. Murphy and Ms. Bussell had been avid soccer players in their youth, Royal Ballet's only current British principal dancer, Lauren Cuthbertson doesn't "look very different from the skinny, freckled kid from Devon who was taken to ballet classes by her mum in order to burn off her tomboy restlessness" when she is offstage according to this Guardian article. Lucky for Ms. Cuthbertson and the others above that they had moms and mums who thought differently than most.
The quest for the American and English ballerinas could be over within a decade if only active girls with the ballet goods were guided to the barre rather than to the field. However, this requires broader opportunities for dance education and awareness such as public schools embracing dance as either an option or supplement to physical education.
Perhaps we need a rescue plan much like those used for near extinct animals, a "Save the Ballerina," initiative. We must spread the word that while ballet lessons are great for any girl (certainly many who were not former tomboys succeed in having wonderful dance careers), the ones who are the most athletic will have a greater opportunity to be true ballerinas--those female principal dancers possessing enough strength, precision and physical and artistic courage to move mountains let alone audiences.
In the meanwhile, the next time you see a lanky girl kicking the you-know-what out of her soccer ball, tell her parents to take her to a good ballet school.
This article first appeared in 4dancers.org