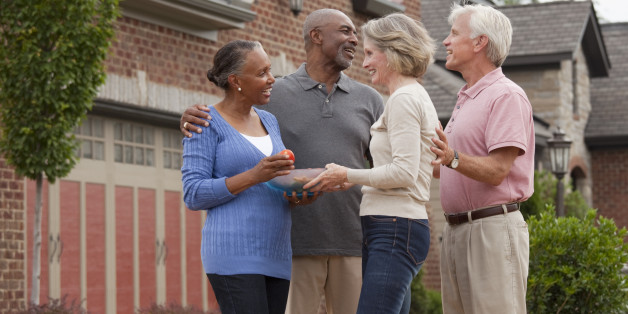 Moving to a new community in a new state is not always easy. My husband, daughter and I moved to a suburb in CT from the suburbs of MA almost three years ago. We moved for my husband's job (he had worked and lived in this community in the past). I fell in love with the area on our visits before our move, and I loved the shopping and interesting architecture of the homes. I was nervous, though, as it was a change and change does not always agree with me.
Here are some steps to help ease a transition to a new community:
1. First connection: neighbors
One of the first mornings in our new home, I was leaving the house to take a walk with my daughter in her stroller, and as we left the house, a very pregnant neighbor was also leaving her house with her son in his stroller. She invited us to walk with her. Now, this was a strange experience for me -- having a random person be so nice since I am a hardened city girl (Boston and New York City) -- but I went along with it and we walked and talked, and she even bought me a cup of coffee. She and her family have become our friends and I was smart to walk with her on that day.
2. Niceties go a long way in making connections
Whenever I took my daughter for a walk that first summer, which was daily as I was not yet working, we would pass people on the street and each and every one would say "hello" or "good morning." I would smile and respond and just wait for the other shoe to drop. People were genuinely nice here, and I was not used to that. It took some time, but now I greet people, too, and it feels good!
3. Connections through work
Time went on and my daughter started daycare and I began working. At work I was lucky enough to meet a wonderful group of people, who made me laugh and who welcomed me so genuinely.
4. Place of worship connections
We continued to meet people through our synagogue and have made friends with many people there, including our amazing Rabbi. It is a place where we all (my husband, myself and our daughter) look forward to going to and has been a positive connection for our family.
5. Connecting to friends
It really wasn't until we had lived in our new community for over two years before I truly felt I had made connections that will endure. My daughter started at a new preschool, and my husband and I immediately met parents who we felt connected to -- similar interests and not just a connection based on our children being friends. It has been magical. We feel as if we really belong here, and I now have friends who I can call when in a jam (like last week when I had a stomach bug and needed saltines). My husband and I do not have family here so having this network of wonderful friends is now our bonus family.
Looking back, the past three years have had their ups and downs but I would not change a thing. Change can be scary and unsettling but my family made it through and now we are able to reap the benefits. Some of the above steps happened to me and some I made happen, which is how life goes. I now feel that my community is my home and my home is my community.