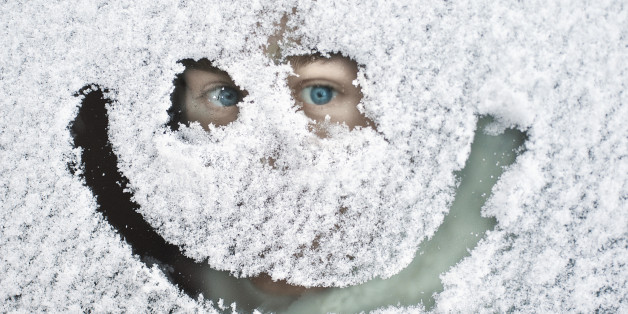 Some of us, quite frankly, are sick of seeing flowers, hearing birds, and braving it through 65-degree afternoons where we call home. We may live in the Southwest, in Australia, in Southern Europe, or any number of other "lucky" places that escaped the recent rash of glacial gloom. For many of us, things like snow and cold are exotic -- part of our dream vacation destination. The problem is, many of us have no idea how to actually last through a day of stunning scenery featuring subzero temperatures.
My idea of "visiting someplace cold" used to be that I couldn't eat lunch or shop for souvenirs outside. After venturing to Antarctica, Russia, and Finland and back, I've learned a few things about how to keep exploring comfortably and safely instead of shivering into the hotel or cruise sauna for half the vacation. So pull off your gloves, cozy up with a steaming drink, and take note.
1. Know the hazards. Besides the obvious transportation dangers that freezing weather brings, there are two health threats that can affect you as a tourist: hypothermia and frostbite. Hypothermia is reduced body temperature that usually results from immersion in freezing water, often due to a fall or other accident. Frostbite means damage caused to skin and other tissues due to freezing. Both can be disastrous. Both are entirely preventable, and the farther you venture outside the city or town you're visiting, the more likely you are to fall victim.
Does it sound ridiculous to talk about hypothermia and frostbite when you're taking your trip to Stockholm or Montreal next month? After all, millions of people live in those places and they never freeze to death or are missing toes, right? Remember, they know the warning signs of dangerous exposure to cold weather. If the wind chill seems a bit ferocious to you and you notice people starting to look at the sky as much as you're looking at your guidebook, take a cue and start up your sightseeing when the worst of the storm is over. No one will call you any less of an adventurer.
2. Understand what your destination looks like in the winter. Planning to explore a city on your own, on foot or otherwise? It may sound obvious, but it's not going to look how it did in the July issue of your favorite travel magazine. Trusty landmarks may be buried under snow; whole plazas can look completely different when they're covered in white and lacking tree cover. You may have a hard time picking out street names and distinguishing parks from city squares. The point is, exploring a city in winter may require additional navigation skills -- just at a time when the map on your iPhone is starting to frost over. Allow extra time to explore and get from point A to B.
3. Ask the hotel to heat the room before your arrival. You'd be surprised at how many hotels -- and not just budget places -- turn off the heat between room occupancies just to save some money. If you've booked a room that no one's stayed in for a week, and you're arriving in the afternoon, chances are the thermostat reads no more than 50 degrees inside, even if the corridor is heated well. Hotel managers are generally more on the ball in the evening and turn on the heat for anticipated guests, but if you arrive freezing, then their idea of "pretty warm" is not going to be enough to thaw you out.
4. Pack extra batteries for your electronics. Bitter cold is a serious threat to your battery life, and affects some models more than others. If you have, for example, an inexpensive prepaid phone that you're using for your trip to Europe, don't be surprised if the battery lasts half as long while you're watching the Northern Lights as it did last spring in Italy.
5. Avoid exploring unknown areas in the morning. Exploration is full of unknowns, and you could slip, trip, or freeze your way right through an adventure -- during the coldest time of day, just before and after the sun comes up (or worse, decides not to). Even if you're able to return to your hotel room to change clothes after falling through some snow or landing on ice, you could be too chilled to want to go out for the rest of the day. Find out when the shops or museums open and try to place them first on your itinerary. 12-4pm is probably your best time to venture into parks, paths, and wildlife areas.
6. Wear the right boots. A pair of wooly, gorgeous Emus is not going to do you much good if the soles are a quarter-inch thick and the boots aren't high enough to keep out snow. Go for thick soles and pack an extra pair of insoles in your day bag. If your boots get wet, you may avoid your feet going numb by switching out insoles.
7. Pack plenty of snacks for your day trips. Popular munchies aren't quite as appealing when we could really go for soup and other hot foods instead. However, snacks are practical and essential to give you energy as your body burns through calories to stay warm. Some foods such as chocolate and crackers lose their taste in the cold; go for raisins and granola bars instead.
8. Pack a thermos. Just looking at a beverage when you're outside in 5-degree weather can make you want to run for the bathroom. But you need almost as many fluids in the extreme cold as you would during, say, a 75-degree day in the tropics. Water or drinks in ordinary bottles can freeze, so pour some of the hotel coffee or tea into your own thermos to take with you. Save the alcohol for the evening -- although it can make you feel warmer, excessive drinking can adversely affect your blood circulation.
For more recommendations, visit www.theanxioustraveler.com.