Sporty, practical and definitely the choice for drivers looking for sharp features in an entry level vehicle. In 2014, the Scion tC has added to its styling too, thus taking on tweaks that include upgraded interior features and a special 10th anniversary edition for Toyota Scion diehards.
Competition includes the likes of the Kia Forte, Hyundai Velostar, Honda Civic and even the Volkswagen Beetle, but for compact, this one is a definite contender.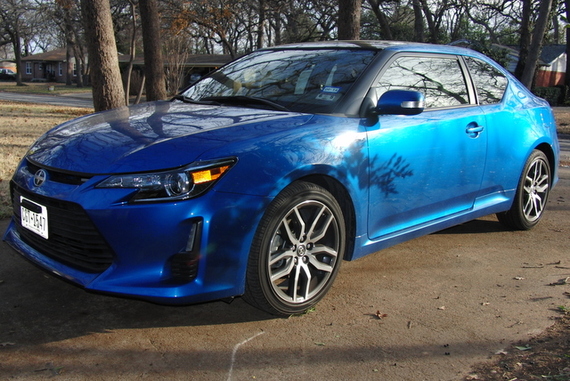 Compact, but seating up to five passengers, the Scion tC is a hatchback coupe that comes in either a base trim or the 10 Series, which is a special edition.
On the base, you get 18-inch alloy wheels, cruise control, power accessories, sunroof, height-adjustable driver seat, leather-trimmed tilt-and-telescoping steering wheel, reclining and folding rear split seats offering a 60/40-split and audio goodies like Bluetooth and connectivity, a Pioneer sound system and a nice-size 6.1-inch touchscreen.
The 10 Series is a limited-production and adds to the existing trim a silver paint and dark alloy wheels, projector beam headlights and there is also LED accent lighting as well as a center console that is illuminated and premiere stitching on the seats and steering wheel.
Of course, there is also choices to be added to the Scion tC and that includes bigger wheels at 19 inches, more advanced parts for not only suspension, but also the drive train and you can upgrade your audio choice to with what is called the BeSpoke system that includes touchscreen audio functions as well as higher-end navigation and integrated apps for social media needs.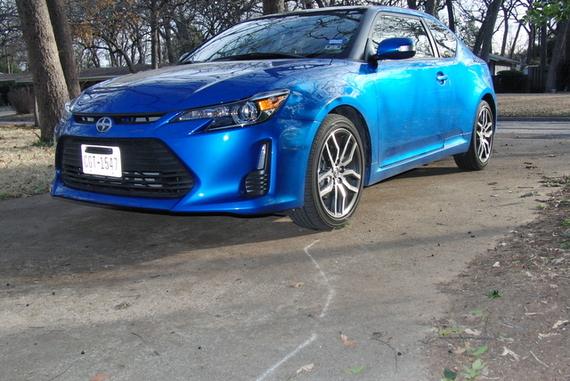 Under the hood, the 2014 Toyota Scion tC is front-wheel-drive and the engine is a 2.5-liter inline four-cylinder with 179 horsepower and 173 pound-feet of torque. While you can get an automatic, the standard on the Scion Tc is a manual transmission.
Safety also takes center stage on this Toyota with the standards being stability and traction control, antilock brakes, front knee, front side and side curtain airbags as well as active front headrests.
The bells and whistles inside are accompanied by a sporty interior with a thick steering wheel reminiscent of racing and the seats offer seat bolters. The knobs and dials are in the appropriate direction of the driver for easy use too.
It should be noted as well that passengers in the backseat won't be disappointed as there is plenty of legroom. With the seats folded there is 14.7 cubic feet for all your hauling needs and the hatchback style definitely makes this easier all around. Catering to an entry level market that often means youth, the Scion offers a thing or two in the audio category. For 2014, the sound system has been upgraded and upped even more with the BeSpoke audio system as an option -- that also includes a navigation system and smartphone integration that keeps you connected using many social media options.
As for behind the wheel, the four-cylinder engine still offers a good set of wheels for off and on highway use or just getting around town. The 2014 Toyota Scion Tc does offer that sporty feel for driving along with a smooth and quiet ride just perfect for long trips or daily jaunts around town.
Should You Need to Know: Testing the 2014 Toyota Scion tC came in a little over seven seconds in zero to 60 with the manual transmission.
Miles Per Gallon: 23 miles per gallon in the city and 31 miles per gallon on the highway.
Cost: The 2014 Toyota Scion tC had a price tag of $19,725.