A bit roomier than many sedans and offering a complete redesign in 2014, the Lexus IS 350 offers, new this year, not only improved styling, but a larger interior and a long list of dandy features.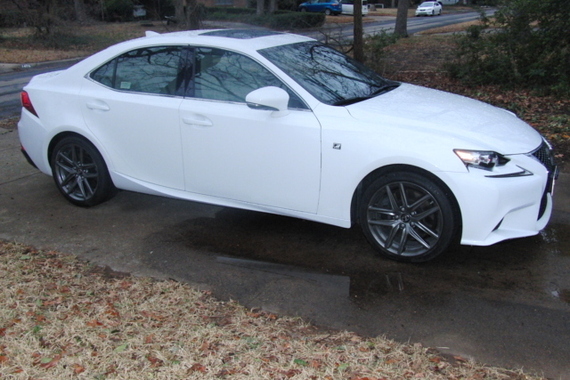 Touted as what is called a compact sport sedan, competition sits alongside the likes of the 2014 BMW 3 Series, Audi A4 or the Mercedes Benz C-Class as well as the Cadillac ATS and Infiniti Q50.
Each selection has its own bells and whistles, but the Lexus certainly stands up to the competition. Coming standard is the rear-wheel or all-wheel drive option along with 17-inch wheels, HID headlamps, LED daytime running lights and brake lights. With comfort being the standout on this Lexus there are heated side mirrors, a moonroof, keyless ignition and entry, a dual-zone climate control as well as a tilt-and-telescoping steering wheel, eight-way power front seats and it's a comfy leatherette premium vinyl for the interior. For more room the seats can be folded into a 60/40 configuration and that comes with an armrest.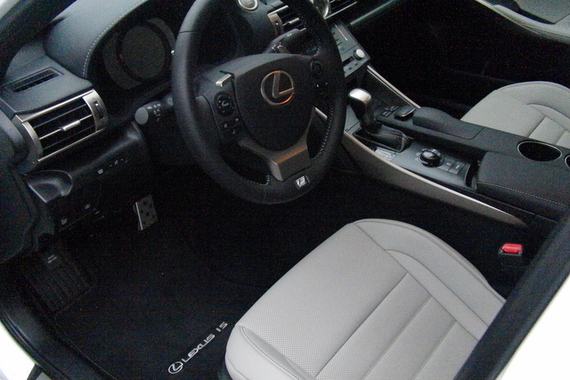 Another standout on this 2014 Lexus IS 350 is the Safety Connect system that offers eight-speakers and will also give you up-to-the-minute weather and traffic details for no cost offered through HD radio. Also on this Lexus comes a nice-sized seven-inch display, Bluetooth capability for phone and audio as well as the voice recognition, satellite radio and jacks and connectivity for just about any devise you need to plug into it.
For choices on the 2014 IS 350 there are three groups to choose from the Premium, Luxury or the F Sport Package.
On the Premium package you get additional LED headlights and heated and ventilated front seats to add to the already excellent standards.
For the Luxury package, it's a blind-spot monitoring system that also includes a rear cross-traffic alert, auto-dimming side mirrors, rain-sensing windshield wipers, leather upholstery with wood trim and a tilt-and-telescoping steering wheel with driver-seat memory.
For the top-of-the-line package on the F Sport and in both rear-wheel-drive and all-wheel-drive options there is the LED headlights and a unique look on the exterior grille and front bumper. As well, you get 18-inch wheels, a sport-tuned suspension, adjustable sport seats and leather trim on the steering wheel and shift knob. Also on this fancy sports edition is a sporty adaptive instrument cluster with aluminum trim for the pedals.
When you opt for the rear-wheel-drive version this will additional add an adaptive suspension and the sport setting on the gear shift as well as a variable-ratio steering.
There is a navigation package option with not only a remote touch controller that works the entertainment/informational part of the system, but you also get a rearview camera, real-time traffic information and a number of apps that can be integrated along with a 15-speaker audio upgrade.
If you are in the market for just a few extras and don't want the packages in the entirety the stand-alone options on the 2014 Lexus IS 350 include a rearview camera, 18-inch wheels, adaptive cruise control, a lane departure warning system and front and rear parking sensors.
Under the hood, this Lexus offers a 3.5-liter V6 engine with 306 horsepower and 277 pound-feet of torque. You can opt for an eight-speed automatic on the rear-wheel-drive or a six-speed automatic on the all-wheel-drive. On either option you get steering-wheel paddle shifters as well.
For safety, the 2014 Lexus IS 350 comes equipped with antilock disc brakes including brake assist, traction and stability control, front seat side, front knee, side curtain and dual rear-seat side airbags. There is also the brand's Safety Connect and that adds the element of a collision notification system as well as a stolen-vehicle locator and roadside assistance when needed.
Upgrade packages offer a rearview camera, blind-spot monitoring and rear cross-traffic alerts, as well as a lane-departure warning system and a pre-collision warning that initiates braking on some package additions.
Inside this Lexus you get top-of-the-line luxury with the 2014 redesign and that includes more room with a good size increase of space in the backseat of 1.6 inches for legroom. The back seats also fold down 60/40 so there is more room in the trunk, but already trunk space comes in at 13.8 cubic feet.
Also look for a change of feature with not only the dashboard armrest, but the steering wheel and console now outfitted with a padding for more comfort. The front seats are also more comfortable and made so that taller men and women can enjoy the ride too.
Another plus is the excellent placement of the knobs and dials, which are easy to use and navigate with a thoroughly modern feel.
Behind the wheel of the Lexus IS 350 it's a strong engine with a powerful punch, which means better control and handling and take note as well that steering is performance driven offering a satisfying driving experience all around.
Should You Need to Know: A standout here is that this Lexus has a longer wheelbase and that is more room for the folks sitting inside. That along with a nice atmosphere means high quality and attention to comfort.
Miles Per Gallon: I drove the 2014 IS 350 AWD Sedan that came in with 19 miles per gallon in the city and 26 miles per gallon on the highway.
Cost: The Lexus 2014 IS 350 AWD Sedan has a price tag of $50,310.