As Scotland is one of my favorite destinations and part of my ancestry, when the Visit Scotland folks agreed to put an itinerary together for me themed "Homecoming Scotland" I was more than happy to take part beginning with a first stop in Edinburgh, one of my favorite cities in the world.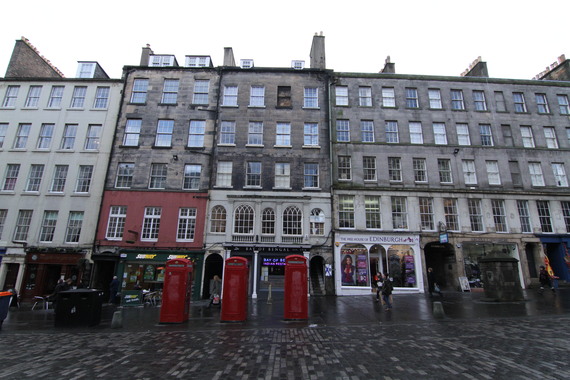 Being my third trip to the country I already knew that there was even more for me to discover than I had seen before and I had to laugh and agree when I thought of that saying coined by Robert Louis Stevenson, "Edinburgh, is what Paris ought to be."
What goes better with a Scotland sojourn that the oh, so fancy 2014 Lexus IS 350, not only cutting edge cool, but refined and redesigned perfectly for the buyer looking for pristine styling and an interior complete with amenities that surpass the usual fare.
New highlights this year include a revamped look and a larger interior, including a more comfortable back seat and more standard features offered too.
Considered a compact sport sedan, the 2014 Lexus IS 350 is in competition with the BMW 3 Series, Audi A4, Mercedes-Benz C-Class and the Cadillac ATS.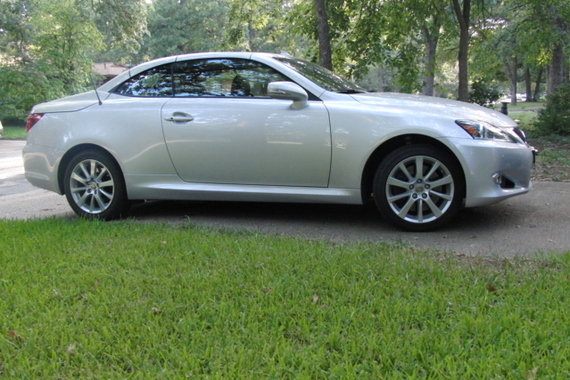 Offered with either rear-wheel or all-wheel drive, the standard equipment includes 17-inch wheels with all-season tires, HID headlamps, LED daytime running and brake lights, heated side mirrors and on the AWD heated front seats too as well as a moon roof, keyless ignition and entry and a dual-zone automatic climate control. For added comfort there are eight-way power front seats and a nice feel of leatherette vinyl upholstery with a 60/40 folding rear seat that also comes with an armrest.
For technology lovers the IS 350 has the Safety Connect telematics system and that means a high-end sound system with weather and traffic updates included as well as HD radio. The seven-inch screen is a good size and there is also a Bluetooth phone and audio connect offering voice recognition.
For option packages the Premium package adds not only LED headlights, but also heated and cooled front seats with the Luxury package giving you a blind-spot monitoring system that includes auto-dimming side mirrors, rain-sensing windshield wipers, wood trim and a power tilt-and-telescoping steering wheel.
Under the hood, the 2014 Lexus IS 350 has a 3.5-liter V6 306 horsepower engine with 277 pound-feet of torque. With an eight-speed automatic transmission and the rear-wheel-drive the standard, all-wheel-drive is available. With either transmission there is a steering-wheel paddle shifter.
Inside, the 2014 Lexus IS 350 was redesigned with some luxurious additions that include a larger backseat to the tune of 1.6 inches for longer legs and the 60/40 split is good for extra hauling, however you get 13.8 cubic feet in the trunk standard. Of course the material used on the Lexus interior is top-of-the-line with plenty of padding all around and comfortable seats for high-end driving around town or road trip and on the 2014 Lexus IS 350 Convertible I drove it came in at 19 miles per gallon in the city and 27 on the highway with a price tag of $55,144.
As for the first stop, Edinburgh offers sweeping architecture that dates back to medieval days as witnessed in the city's Old Town, to the Royal Mile and the environs of the Georgian New Town, there is a blend of charm that only Edinburgh offers second to none in the world.
And what stands in Edinburgh as a reminder of all the glory that visitors can behold, the Castle, of course. This includes the chance to visit the Castle with a courtyard boasting of days gone by, and from there it is the chance to drive out into the Lothian countryside also full of history and offering more castles to discover as well as plenty of great houses and battle sites that make up this splendid country.
For my first night in Scotland I stayed at the Balmoral Hotel, which is a Rocco Forte Hotel and located in the perfect spot in the city just minutes to walk to many Edinburgh attractions. The hotel boasts a clock tower and is also situated conveniently next to Waverly Station and across the street from my appointment the following morning at ScotlandsPeople Centre.
ScotlandsPeople Centre is the best place I have ever found for in-depth genealogical digging. The centre has digitized records of births, marriages and deaths along with census records and coats of arms that go back 500 years and plenty of friendly staff and comfortable chairs for researching.
Other must sees in Edinburgh before heading out to the countryside, is Arthurs Seat (yes, as in King Arthur), this special spot can be accessed via Holyrood Park. Once at the top you can expect stunning views all around compliments of a volcano that erupted about 400 million years ago and left a breathtaking landscape to be enjoyed by those visiting today.
Edinburgh Castle is, of course, a must at the top of the Royal Mile and there is also the Royal Yacht Britannia, which is quite impressive to tour as well. This ship was the home to the British Royal family on their high sea travels for 40 years and now you can see some of the amazing gifts the family received during their world visits and even peak at the sleeping quarters of the queen, prince and the other royals who made use of the ship too.
The most exciting day for me on my trip came on day number two when I visited, for the second time, a castle called Tantallon in North Berwick. This castle was on my list of must sees "again" because I had dreamed about this castle for years before I visited it 10 years ago. Since the trip I was on was a bit about my own ancestry I thought it only satisfying that I take one more look at this castle and I was not disappointed. After all, Tantallon was a stronghold set on top of some very perilous Scottish cliffs on the Firth of Forth. Having been the seat of the Douglas Earls of Angus for many years, the castle was a prominent piece of real estate in the area for three centuries and underwent countless sieges.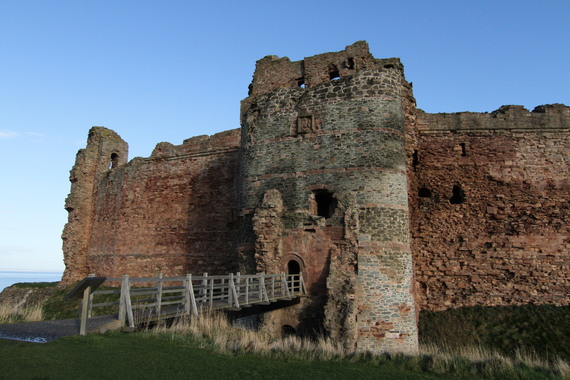 While in the area visit the Scottish Seabird Centre for a change of pace and take the time to poke around in the Discovery Center that explains everything you need to know about the birds in the area and what is being done in regard to local conservation.
Since it was a short trip I next headed to Loch Lomond and the Trossachs National Park where a night at Cameron House Hotel meant a stay at a restored Scottish Mansion on 100 acres of pristine Scottish real estate. The wooded parkland is perfect for evening walks and there are also croquet games to be played on the lawn or you can try your hand at clay pigeon shooting.
On the other end of any trip to Scotland one must not ignore the other lovely Scottish city of Glasgow. It is here that I took part in the yearly festival called the Celtic Connection where about 2,100 musicians from around the world visit Glasgow bringing their own style of music to the city for 18 days.
Staying at the conveniently located Radisson Blu Hotel just steps away from the concert hall where I saw the band, Capercaillie, celebrating 30 years of music, I also found Argyle Street to have plenty of hustle and bustle with shops and museums nearby. Suggested visits in Glasgow include the Riverside Museum that just opened last year offering a transportation collection and the century-old Kelvingrove Art Gallery and Museum in the city's West End. At this gallery/museum there are 22 theme galleries and roughly 8,000 objects on display for the museum visitor to enjoy.
Whether you're looking to discover your ancestry or just want to discover Scotland's rich history that is home to countless must-sees, this country is a smorgasbord of happy faces and historical significance that will leave you in awe and eager to plan your next visit abroad.
For more information visit www.visitscotland.com.