It's a hidden gem and if you haven't been to Red River, New Mexico, lately then you definitely need to take the trip to discover all that Red River has to offer. A small town established in 1895 as a mining community, the town shines in summer and winter and is the perfect destination for a road trip stop along the way.
Even better, discovering Red River in the comfort of one, very well-matched 2015 Kia K900 since it is the car that Kia fans have been waiting for in a full-size luxury sedan. Competition includes the Audi A8, BMW 7 Series and the Lexus LS 460, all comparable, all pricier.
Even if Kia has not established its luxury moniker yet, it will still turn heads with its impressive lineup of features that are equal to the opposition and then some.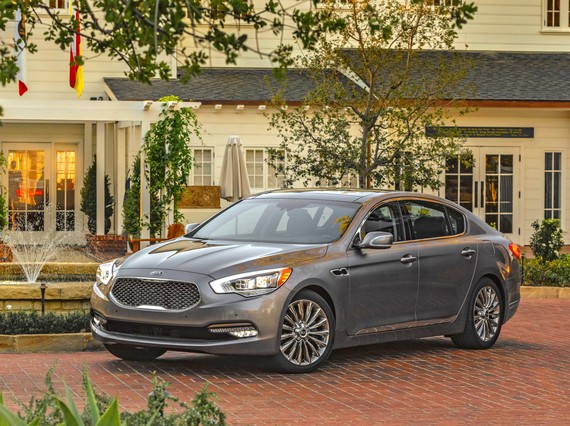 Of all the Kia sedans note that this is the largest one to be introduced and in size it can go head to head with the European brands that have held the market for years. The features are longer than a child's Christmas list to Santa as well, indeed, there is hardly anything missing in the Kia K900 offering.
With the capacity to hold five passengers you get engine choices and, with those choices, is where the difference in trim levels can be found too.
The additional upgrade package is the VIP package for the V8 trim and this is worth look with a 12-way power-adjustable driver seat that is perfect for traveling, a power front headrest, ventilated and reclining rear seats that have lumbar support and a 360-degree parking camera system as well as a frontal and pre-collision warning system.
Under the hood, the 2015 Kia K900's V8 engine is a 5.0-liter with 420 horsepower and 376 pound-feet of torque with rear wheels and an eight-speed automatic transmission. The V6, which will be introduced later than the V8, will have a 3.8-liter engine offering 311 horsepower with 293 pound feet of torque.
With 15 miles per gallon in the city and 23 on the highway, the new 2015 Kia K900 has a price tag of $66,400 indeed, to match your home away from home while visiting Red River during any season.
With endless recreation and relaxation opportunities there's plenty to do or plenty of places to do nothing at all. For summertime, consider a few of the options like hiking, biking or even a jeep tour into the nearby mountains. The Carson National Forest actually surrounds Red River with its seasonal wildflowers, fall leaves and hundreds of miles of marked hiking trails. New Mexico Adventure Company is perfect for a Jeep Tour to Goose Lake, Old Pass and Pioneer Canyon or Greenie Peak. A great chance to see wildlife and nature, you will also have the chance to visit an old mine and take a few minutes to pan for gold.
Fly fishing is big business in Red River, Jeff Fagan Guided Fly Fishing offers experts and beginners a chance to say they fished at some of the best "holes " in the area. For horse lovers, the Red River Stableshas one hour rides throughout the scenic area mountains with trail climbs of up to 400 feet.
In the wintertime, Red River Ski & Ride Area offers skiing and snowboarding and five minutes away the Enchanted Forest Cross Country Ski and Snowshoe area also provides trails and often special events. For snowmobiling it's the 11,249-foot Greenie Peak.
For a relaxing time anytime of the year in Red River there are many shops on Main Street where you can find a variety of ways to spend your money. A day spa in the little mountain town might also be a great way to unwind for a few hours. Cathleen's Mountain Day Spa offers a great menu from facials, to massages to body wraps.
For your sweet tooth, The Candy Crate has created a number of fudge flavor options for the young at heart. Choose from Milk Chocolate Rocky Road to Maple to Cookies and Cream and more or just take a look inside the shop attached to the candy store for local art, souvenirs and t-shirts.
Red River hosts 20 annual festivals a year too so if you enjoy wine, blues, classic cars or even Mardi Gras visit www.RedRiver.org and find out what's coming up next.
Finally, since Red River is such an old town, be sure and find out more about the historical side of things from the Red River Historical Society. Plenty of history abounds about the comings and goings in this little mining community and there's a good chance you might find a few historical stops -- a perfect way to spend an afternoon.
Photo courtesy of Russell Dandridge