There is no way you can argue with a destination that not only has an Ornamental Metal Museum, dinner menus that rival anywhere in the country (and by that I mean unusual and tasty) and the home of none other than Elvis Presley; Graceland.
Memphis is indeed, the "home of the blues and the birthplace of rock 'n' roll.
While there are many things to do and see in Memphis just hanging out on Beale Street, visiting Graceland, the Stax Museum or the National Civil Rights Museum while otherwise eating your way through Memphis (and that means without stopping at one barbeque joint), you might be surprised at all this city has to offer and what better way to explore this great American icon than in the 2014 all new designed Mazda 3.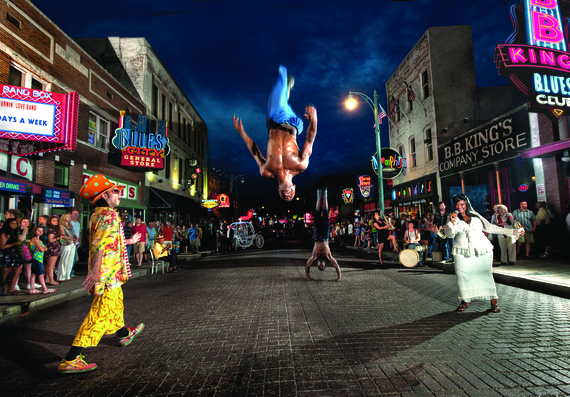 Great styling on the 2014 Mazda 3 means an easy vacation car and an excellent way to visit everything with primo fuel efficiency at 28 miles per gallon in the city and 38 miles per gallon on the highway.
Competition includes the Chevrolet Cruze, Honda Civic, Hyundai Elantra and the Kia Forte.
Expect precise handling and great acceleration on the Mazda 3 with a snappy interior that offers knobs and controls that are intuitive and that means easy to use.
There are two body styles to choose from the sedan or hatchback with either the 3i or 3 s trim followed by a variety of sub-trim choices too. The base 3i is only offered in the sedan, but otherwise you can take your pick. Keep in mind too that the 2014 Mazda 3 has been completely redesigned with new standard equipment and a fresh face so that and a more powerful engine means Mazda has hit the mark just right.
For safety it's antilock disc brakes, stability and traction control, front head restraints, front side airbags and side curtain airbags as well as a blind-spot monitoring system with rear cross-traffic alerts standard. On the 3i Touring trim or above and on the 3i Grand Touring you also get a rearview camera.
Under the hood the 2014 Mazda 3i has a 2.0-liter four-cylinder engine with 155 horsepower and 150 pound-feet of torque with front wheel drive and standard six-speed manual, but a six-speed automatic is optional. On the Mazda 3s you up the engine to a 2.5-liter four-cylinder with 184 horsepower and 185 pound feet of torque. That comes standard with a six-speed automatic only.
So take off and consider some of these choices for places to eat and visit while exploring the town.
Top Five Restaurants in Memphis Just Because
Lunchbox Eats - The concept here is ordering in a type of atmosphere like you're at school. It's fun, but even better the food is good with choices like kale chips, broken rib bones, graduation burger or the after school Scooby snack. There are also homemade desserts so save room.
The Beauty Shop - This was the original location (a real beauty shop) where Priscilla Presley used to have her hair done, these days it's a great place to eat with a great menu. The motto is "Look good. Eat good" and you will with a menu as diverse as grilled peaches, pan roasted barramundi, pork and peach or pork carnitas.
Andrew Michael Italian Kitchen (www.andrewmichaelitaliankitchen.com) - Standing room only and hard to get a table, but worth every minute. Order the Maw Maw's Ravioli and make sure you asked for a pint of the popcorn gelato with the chocolate peanut butter torte. No menu Monday is a good time to experience this place too with a set $45 menu or with wine $60.
Mollie Fontaine - Possible haunted, but definitely a good place to get a blend of spirits in this lounge atmosphere where several floors house different entertainment.
Flight (www.flightmemphis.com) - Flight food and drink options are getting popular everywhere and a perfect way to try more than one thing on the menu. At this Memphis restaurant you can choose from flights of salad, soup, seafood, tenderloin, dessert and even wine.
And then....
National Ornamental Metal Museum (www.metalmuseum.org) - Learn all there is to know about making metal and see some wonderful works of art on display here too. The exhibitions come and go throughout, but overall this place is a place where metal is not just displayed by where art is being made.
Stax Museum (www.staxmuseum.com) - A real standout, this museum is nostalgic with a blast from the past from your childhood. Think Glady Knight, BB King, Ray Charles, Aretha Franklin... you get the message. In an excellent short film they show before the tour here one musician says "No color came through that door until King was shot here."
National Civil Rights Museum (www.civilrightsmuseum.org) - Located at the Lorraine Motel, the assassination sight of Martin Luther King, Jr. this museum chronicles the key episodes in the Civil Rights Movement.
Where to Stay
The Peabody (www.peabodymemphis.com) In the heart of the downtown area near Beale Street where it's all action all night what might even be better than location location is the time honored tradition of the Peabody ducks in the hotel lobby with the Peabody duck march taking place daily at 11 a.m. and 5 p.m.
And Finally...
Don't miss Muddy's cupcakes and Jerry's Sno Cone in East Memphis.
Jerry's Sno Cone is a hole in the wall - literally - with 25-plus flavors, but in true Memphis tradition order the Wedding Cake Supreme Snow Cone, just this one time.
As for Muddy's Cupcakes (www.muddysbakeshop.com) , well if you must they have mini-cupcakes and even vegan treats, but the best thing of all; the Frankly Scarlett cupcake (red velvet and cream cheese), the King (banana and peanut butter) or the Strawberry Lemonade (strawberry and lemon) and don't say I didn't warn you.

For more information and to visit Memphis, Tenn check out www.MemphisTravel.com