While there are many options for places to visit In Texas, should you find yourself in the Dallas/Fort Worth area then consider the little town of Granbury for de-stressing and enjoying a slower pace.
Not far out of the Dallas/Fort Worth area, Granbury is located in the Brazos River Valley. Weekend trippers will find all they need including golf courses, a wine scene, more than 20 bed and breakfast/inns and a great little town square that offers restaurants and shopping that is good for meandering around in the entire day.
Do it in a truck built for the Texas roads too, the 2014 Jeep Cherokee.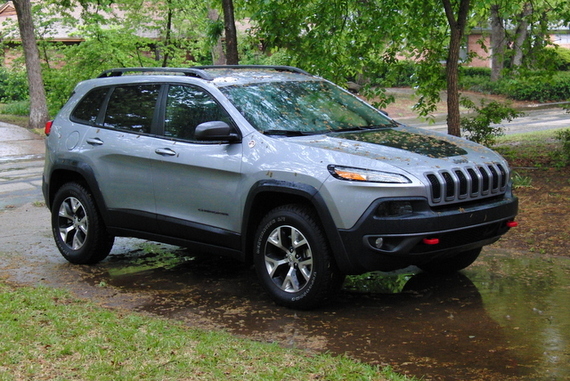 The 2014 Jeep Cherokee has little competition since this rough and tumble crossover is all about driving in any condition, but that includes taking it easy for a trip to the mall or date night too.
With an all new design for 2014, this Jeep has a little less space for hauling than the competition like the 2014 Ford Escape, Honda CR-V and the Kia Sorento, but it does offer a generous amount of features even if a bit more of a sluggish engine to go with it.
When you consider a small crossover as opposed to some of the larger choices for off roading, the 2014 Jeep Cherokee can still keep up. It also offers the V-6 engine option too, the same six-cylinder variety offered in the Grand Cherokee.
With four trim levels on the Cherokee, this SUV holds five passengers with choices of the Sport, Latitude, Trailhawk or Limited variety.
For the serious off road junkie the Trailhawk trim definitely stands out against the competition, but all around the 2014 Jeep Cherokee knows what it means to perform and with a price tag ranging from $24,500 to up to $30,000 depending trim level and added options, this is one to consider for anytime.
Granbury Square was the first in Texas to be listed in the National Register of Historic Places. The town was founded in 1866 and there are a number of historical names associated with Granbury too. It is said that President Abraham Lincoln's assassin lived here under the name John St. Helen (John Wilkes Booth), David Crockett's widow lived in Granbury and Jesse James was said to have fallen in love with a woman from Granbury living out the latter part of his life here.
For a quick weekend trip you will want to experience as many of the restaurants as possible and that means beginning with the 1890 Grille & Lounge, an excellent restaurant located in the Historic Square in Granbury. The standout here is that while it is located outside of the Dallas/Fort Worth area, the food will match any restaurant it is compared to in the metroplex.

Stumpy' s Restaurant on Lake Granbury is a great lunch time option and a local hangout offering comfort food and plenty of it. For a break in between exploring the local museums and downtown area to just spending a day in the sun, Stumpy's will hook you with its menu and atmosphere.
Another mealtime option, Brazos Smokehouse. What stands out about this place is the menu and owner who does her own catering. Take your pick between brisket, sausage or even a simple chuck wagon burger. The Signature Smokehouse Dressings go good on the variety of salads and if you're really hungry you can even go for prime rib or Alaskan King Salmon.
Above all, the restaurant choices in Granbury stand out, particularly for a small town. The flavors will entice the taste buds no matter what you are hungry for or when you ready to eat.
Wine lovers, you have come to the right place too since Granbury is home to Barking Rocks Winery. These guys produce premium wine in small batches, handcrafted old-world style in a rock barn and their tastings are worth a visit just to sit and relax for awhile. Wine standouts to me included the 2011 Rousanne, a rich, dry white and the Redman, a red with vanilla and cherries hints.
One of the things that most stood out at Barking Rocks, even above the wine is that it's clear the folks in charge here "don't care about following the rules, they follow their heart."

Another surprise was nearby was Revolver Brewing, a new attraction in Granbury that opened in October. When I visited there was a band playing and the beer flowing, eight, full-flavored beers that are made using local ingredients.
Revolver Brewing is the brainchild of father and son, Ron and Rhett Keisler and brew master Grant Wood who used to work as Samuel Adams. Even for those who aren't much into drinking beer, this place is worth a visit just for the atmosphere and the tastes.
For history buffs, the Hood County Courthouse was built in 1890. In 2008 a grant was received to restore the interior, including the district courtroom to its original two-story configuration. The Courthouse was also the first in Texas to be given the National Register of Historic Places designation and has definitely kept its image of the past intact even today.
Another look at old world is at the Hood County Jail Museum, I highly recommend a tour. It is an old Western jail built in 1885 featuring memorabilia depicting Granbury and Hood County history and it served as Hood County's jail until the 1970s. You can also see the original cell block and hanging tower and there might even be a few ghosts in there too.
Finally, the U.S. Veterans Museum is a look at our nation's history with a peek into the folks from the area that played a part. This is a great place to see and hear the stories of the brave men and women who have served our country from Hood County.
One of only 10 left in Texas, the Brazos Drive-In is a good way to get into the swing of small town and the place offers first run movies every weekend. The drive-in has been around for the past 50 years and there really is no better way to step back in time for a weekend night.
The only other question is where to stay. While there are indeed many options, Arkens Bed & Breakfast comes recommended near the lake and sporting what the owners call "a Greek epic of a Mediterranean mansion." With great lake views and owners who make you feel right at home (particularly with a wonderful breakfast each morning), indeed, this place is the perfect way to begin and end your weekend getaway and no better way to relax and let someone else take care of you.