Some cars have more personality than others, case in point, the 2014 Infiniti Q60 Convertible. Add to that a primo Southern California destination and you have near perfection.
A few months ago while I was in Redondo Beach/Los Angeles I had the good luck to drive the 2014 Infiniti Q60 Convertible. There is nothing to be said about this vehicle other than, I love it. Convertibles in California just go hand in hand either way, but the Infiniti got 20 miles per gallon combined and with a 3.7 liter DOHC 24-valve VVEL V6 engine I got 325 horsepower with 267 pound feet of torque. It was a rear-wheel, seven speed automatic also offering a manual shift mode.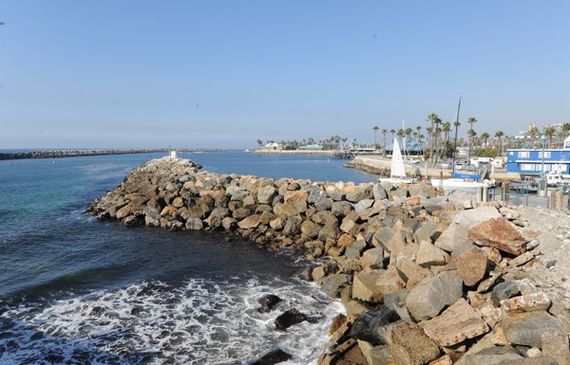 For getting on the highway and spinning around town you can't go wrong. In fact, you can't go wrong if you own an Infiniti either and the price tag is at $56,555. That also included on my set of wheels for the week a Technology package, Premium package, Navigation package, Performance Tire and Wheel package and Interior Accents package. With all these extras it meant top-of-line sound, 19-inch alloy wheels, an upgraded navigation system, rear sonar system and even lumbar support for my back while I was driving. The luxurious Infiniti already comes with a load of goodies for the serious driver, but add to that the extra packages and convertible top and it's easy to take the road by storm no matter where you drive and no matter when.
As for the cool vibe in Redondo Beach, it's a place good for the soul. A California beach town that touts over 200 restaurants, nightclubs and entertainment locations it also boasts the largest, small boat marina on the west coast. It was incorporated in 1892 with only 688 residents, but now it's a primo place to live and visit on the weekends and its population has grown to over 67,000.
On the pier there is a restaurant called Kincaids, considered a classic American grill and serving steak and seafood and a large variety of appetizers and drinks.
Activities like Segway tours at South Bay Mobile Tours and a visit on board the SSV Looking Glass come highly recommended. The latter, a 19-passenger semi-submersible underwater viewing boat, is the best seat in the house to view a smorgasbord of marine life. The SeaLab is operated by the LA Conservation Corps and offers a look at many forms of sea life, most rescued when the turbines of the nearby power plant brings in water to power the plant.

If you want a longer ocean adventure the Voyager Excursion will take you out to see marine life in the waters off Redondo Beach where there are dolphins, whales, a variety of sea birds and some resident sea lions as well.
Redondo Beach has a fabulous little Farmer's Market and it's a must visit, called the Riviera Village Farmer's Market and held on Friday. It's a great place to pick up local produce, cheese, fruit and just a nice variety of healthy snacks and, even better, there is a band that plays too.
For places to stay; try either the Crowne Plaza Redondo Beach and Marina, which is one of the best locations in the city as you can walk to the beach and the Pier in minutes or the Portofino Hotel and Marina where they will give you ear plugs in the room since the sea lions just outside the balcony often get a bit vocal. There is no beach at Portofino, but the water activities are enough to keep you busy just steps from the property and the also offer complimentary use of beach cruiser bikes or you can sit in the ocean-inspired lobby living room and have a drink in front of the fireplace.