California's desert is a magical place and nowhere is that more obvious than when visiting the little town of Borrego Springs. While there is a plethora of things to do and see in this desert area, one experience that stands above all others is checking out the 130 metal sculptures dotting the town's dusty landscape.
All the sculptures were created by one man too, renowned metal artist Ricardo Breceda.
And to make your journey even more complete, hitting the little town in a 2014 Kia Soul.
A funky little car that Kia has presented this year with an entirely new design, the 2014 Kia Soul, well, has soul. Great for going places, this Kia is practical with good gas mileage and the hatchback means lots of space for extra friends and all the extra stuff you need to haul.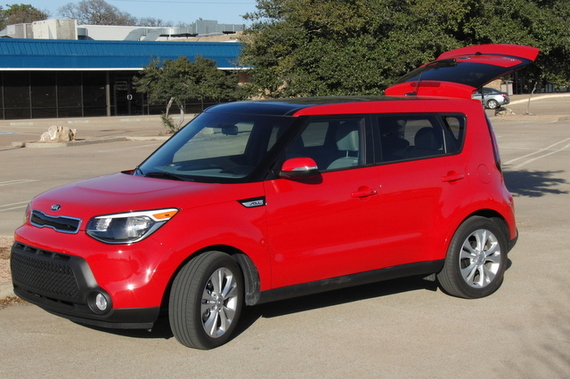 This is the fourth year that the Kia Soul has been on the market and it has proven to be a Kia classic, with high marks in many areas. It look like a box and competition only sits fairly with the likes of the Honda Fit, Ford Fiesta, Chevy Sonic or the Toyota Prius C. Good for the entry-level, budget conscious buyer, the 2014 Kia Soul is a four-door hatchback with three trims and enough seating for up to five adults. Trims are base, + (Plus) and ! (Exclaim).Inside the 2014 Kia Soul it sports a cool vibe for looking good and driving easy. For a car at this low cost, no expense has been spared to make sure that it is quality materials for styling. The knobs and dials are all placed in easy-to-see-and-use positions too. Overall, the driving experience is a good one on the 2014 Kia Soul, plenty of ease getting on the highway and going where you need to go with the 2.0-liter four-cylinder engine and handling is fine as well. Indeed, while the ride is good, the look is cool and the box-shape has a unique style that does turn heads.
With 23 miles to the gallon in the city on the Kia Soul + that I drove and 31 miles per gallon on the highway, the price tag is excellent too at just $24,010.
And you will turns heads as you tour Borrego Springs, but if you are not prepared you might be a little surprised to see life size-prehistoric creatures, elephants, camels, sloths, llamas, horses, pigs, sheep, tortoises and the highlight -- a huge dragon that is the Breceda artwork around town.
Called the Galleta Meadows sculptures, these freestanding sculptures were a gift from town benefactor Dennis Avery and most sit on his private parcels in the Galleta Meadows area of town.
The first sculpture was installed in 2008 and most are based on renditions from a book called Fossil Treasures of the Anza-Borrego Desert. Using metal, scrap reinforcement bars and wire to fashion these unwieldy creatures, the metals were pounded together with hammers to create the final product.
Also added more recently to the sculpture collection are life-like renditions of humans including Mexican explorer Juan Bautista de Anza and field workers who worked the land in the area picking grapes back before the United Farm Workers Boycott in the 1960s. How to find these larger than life sculptures? It's easy since viewing is free and all are easily accessible from Borrega Springs Road, north and south.
Take the time to spend the night in Borrego Springs too since driving around and visiting the sculptures will take all day. A recommendation and perfect place to relax is Borrego Valley Inn located in the desert. Offering a rustic elegance, two pools and with rooms furnished in authentic Southwestern/Mexican décor it's the best of taste. At night you can also check out the dark sky from the private patio and truly be overwhelmed at how many stars you can see on a clear desert night.
For more information visit www.borregospringschamber.com.
Photos by Russell Dandridge