It's always warm in Los Angeles. So it should come as no surprise that recently I packed my bags and headed to the West Coast where I lived for 10 years, ah, I still miss the ocean breezes and the laid back vibe. So landing in Los Angeles and picking up my Nissan 370Z Roadster Tour 6MT (thanks Nissan) with a wonderful convertible top and a fast little engine meant a nostalgic return to my roots.
While I have to admit I did find that the trunk proved to be a challenge for a two-week road trip, nevertheless I hit the road and made it work, who needs lots of "stuff" anyway on a relaxing road trip after all?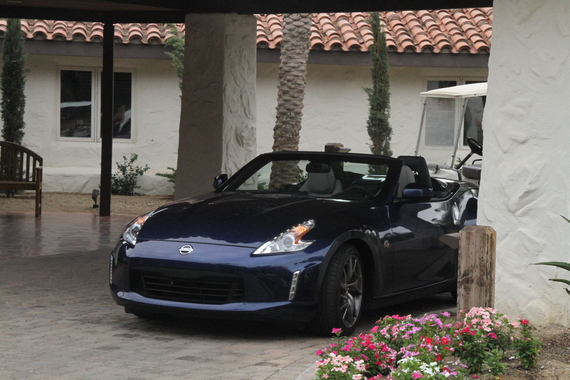 In fact, there was nothing better than the Nissan Roadster for the kind of road trip that not only set my spirit free, but also had heads turning no matter where my adventure took me for those two weeks.
With 17 miles per gallon in the city and 24 miles per gallon on the highway, this Z Roadster Tour made my Southern California jaunt go from good to fantastic. For those who are interested in keeping the memory alive and buying one of these awesome little sports cars here are the details; the 370Z Roadster has a price tag of $50,055. Features that come on the vehicle that I drove included a 3.7 liter DOHC V6 engine with variable valve event and lift. It was 332 horsepower and 270 pound-feet-of-torque with a six-speed manual transmission. At first I thought the manual transmission might not be a good choice in Southern California, but I soon realized there could be nothing else on this sexy little car.
Also worth mentioning, for the best performance there are front and rear stabilizer bars, three-point front strut tower brace and front and rear vented disc brakes.
For safety, expect driver and front passenger side impact and curtain airbags, anti-lock disc brakes, traction control, tire pressure monitoring system, brake assist and the Nissan vehicle immobilizer system.
I also had the Sports Package on my 370Z ride, that included 19" RAYS forged aluminum alloy wheels, Nissan sport brakes, limited slip differential, Euro-tuned sport shocks and a navigation system.
For comfort with or without the Sport's Package you can also expect an eight-way adjustable driver's seat, four-way adjustable passenger seat, driver lumbar support, heated and cooled, ventilated leather seats and an auto-dimming rearview mirror.
Highly drivable and comfortable, drive it on a vacation for sure, but my recommendation is also to own one of the 370Z's at home. Good to know as well, the Nissan 370Z comes in a hatchback coupe or soft-top convertible with the coupe available in base, Touring and Nismo trim levels and the convertible like I drove in the "Roadster" in base and Touring only.
As for the trip itself, well, in Los Angeles, my first stop was the Sirtaj Hotel in Beverly Hills, a 32-room boutique hotel in the heart of Beverly Hills along a tree-lined street and located just two blocks from Rodeo Drive. The property is modern, sleek and with a touch of the East.
The next day, driving further south and my stop for the night was Laguna Beach and the Inn at Laguna Beach, located on the Pacific Coast Highway at the popular Main Beach. In fact, for great views and, in my opinion, the best location in the town the Inn at Laguna Beach is the only place to stay while visiting. Even better, this recently renovated boutique property is highlighted not only by the spectacular views, but also a new pool and large, spacious and very comfortable guests rooms. There are 70 rooms at Inn at Laguna Beach with the ocean at the doorstep and it's also just a short walk into downtown, yet it still feels perfectly intimate.
The town of Laguna Beach is located about midway between Los Angeles and San Diego and offers seven miles of sand and surf. It is also an art lover's delight as well as a great place for nature lovers and beachgoers. Actually, there is about 20,000 acres of wilderness in the area offering dramatic cliffs, verdant hills and marine sanctuaries. The Laguna Coastal Wilderness Park and Crystal Cove Park are must visits.
After one night in Laguna Beach, the drive to San Diego was about two hours where I spent three nights checking in first at the Grand Del Mar. The resort has an on-site equestrian center so horseback trail riding is an option or, I opted for a wonderful nature hike in the Los Peñasquitos Canyon Preserve, a naturalist's haven and an outdoor enthusiast's playground and just behind the resort, a stunning 4,100 acres.
With two signature restaurants, dinner at Amaya is a must, but wanting to explore the nearby area of La Jolla is also a must. For example, the walking tour of the new murals of La Jolla will open your eyes to new experiences and then a visit to the Museum of Contemporary Art will also feed the soul like it did mine.
A restaurant called Herringbone proved more than perfect as I started my delightful meal with a variety of oysters from around the country. Herringbone features 100 year old olive trees growing among the tables inside and with a cool vibe of lounge music and an easy menu from Chef Brian Malarkey, here you will find a unique if not completely original take on meat and seafood from the menu offering a good number of choices that are hard to choose from just one.
At the Hotel Solamar in downtown San Diego, which was my next stop for the night I was more than pleased with the spacious rooms and even better, with my dinner at next door, Jsix. Again, the dining experience was above par with fresh foods and an open kitchen offering that always welcome California vibe in the heart of downtown.
Another must stop when visiting San Diego is the Balboa Park area where you can spend a few hours or all day. In fact, there are 16 museums and about a dozen different gardens, I took the time to enjoy the San Diego Zoo then headed over to the San Diego Air and Space Museum also taking a trolley ride around the area to get better acclimated (highly recommended).
Finally, before my road trip adventure was complete, I had one more night in Carlsbad at the Park Hyatt Aviara Resort. While it was only a quick night spent in the remarkably furnished rooms, the spa is the standout here so don't miss it.
The next day my drive from Carlsbad to the San Diego airport took about 45 minutes and all in all my relaxing trip made this southern California experience one to remember.