Photos by Russell Dandridge
What can you say about a place that has dreamy weather year round and a dreamy beach (two-and-a-half miles of it) with so much to do, or not do if you don't want because Sunny Isles Beach, Florida is also all about relaxing.
Sunny Isles Beach, Florida; a venerable beach town that has grown up over the years in such a way that even Donald Trump couldn't resist investing.
And that is where the story begins.
Arriving at the Fort-Lauderdale-Hollywood International Airport I was picked up by a company called Key Transportation and taken to my home away from home the Trump International Beach Resort right on the main drag.
And to make life even better, drive what the police drive in Sunny Isles Beach (I did a ride along with one of the officers during my stay) and it was a Dodge Charger both they drove and I recommend for driving in this beach town - both the town and car have a big personality.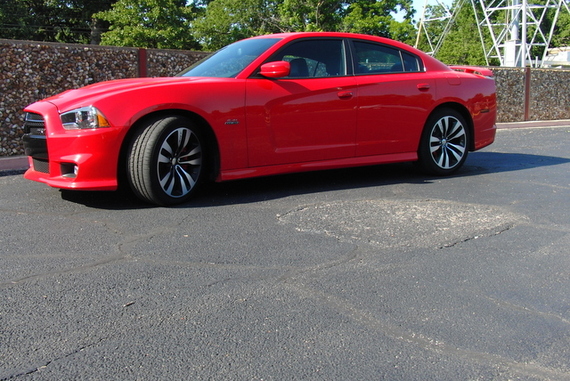 With a price tag of $52,065, the 2014 Dodge Charger SRT has not received any sort of major overhaul this year, but one might say that it really didn't need it anyway. The Dodge Charger speaks for itself in that it is bold, daring and touts a good price tag along with a full-size sedan look and feel.
Competition for the 2014 Dodge Charger is the Chevrolet Impala, Toyota Avalon and the Kia Cadenza, but even so, you'd be hard pressed to find another such cool set of wheels with as much space. It's also a good looking interior, indeed the Charger is one that will impress.
On this full-size sedan you get trim options of SE, SXT, R/T, SRT8 and SRT8 Super Bee trims.
Under the hood, the 2014 Dodge Charger SE and SXT have a 3.6-liter V6 engine with 292 horsepower and 260 pound-feet of torque. With the Rallye Appearance Group, Blacktop package, Redline package or AWD Sport package it's a bit higher with 300 horsepower and 264 pound feet of torque. Rear-wheel drive is standard, but the SXT can also be had in all-wheel drive.
Upping the engine on the R/T it's a 5.7-liter V8 with 370 horsepower and 395 pound feet of torque. The transmission is a five-speed automatic with rear-wheel drive, but the all-wheel drive is optional except with the R/T Road & Track package.
The 2014 Charger SRT8 is the king of road with a 6.4-liter V8 engine putting out 470 horsepower and 470 pound feet of torque. This is also a five-speed automatic with rear-wheel drive.
Space inside is also key and there is plenty of it for the driver and the passengers in the front seat and back, headroom in the back for a very taller passenger might be a bit tight though. The trunk space is at 15.4-cubic feet, but there are the 60/40-split-folding rear seatbacks.
For driving, no matter the engine size you can definitely enjoy this ride with ease getting on the highway, meaning plenty of acceleration and the suspension takes the bumps too.
You will definitely need a set of wheels while visiting since there is so much to do. In fact, I didn't spend a lot of time in the room or at the property except for to indulge in a spa treatment at the Aquanox Spa at Trump International Beach Resort. The spa is unique in that it offers cutting edge technology combined with a holistic approach whether it be a massage, facial or body treatment from the menu choices. One standout is the 24-karat gold facial combined with a collagen lift that firms and brightens the skin.
Sunny Isles Beach Ocean Rescue Manager, Justin Broman gave me a city tour, which meant I was able to ride with him down the beach in his Ocean Rescue vehicle as he detailed the history the city, which is called Florida's Riviera and located in the northeast corner of Miami-Dade County. Sunny Isles Beach is located on an island and to the east are the Atlantic Ocean and the west the Intercoastal Waterway.
The well-known fishing pier in Sunny Isles Beach was built in 1936 and became a popular destination for locals and tourists and it still is today. The half-mile pier was designated a historic site in 1982.
With names like Grace Kelly, Burt Lancaster and Babe Ruth visiting throughout the years, Sunny Isles Beach is a cacophony of new highrises (like the Trump resort I stayed at) alongside some of the older hotels from earlier times meshing together for the perfect blend of what a visitor expects in Florida.
For the adventure-lover Blue Moon Outdoor Center is a great place to consider an activity or two. Consider kayaking and you can opt for one hour or half-a-day. At Blue Moon they also offer eco-tours that include looking for dolphins and manatees and on full moon nights a full moon kayak tours can't be beat.
For car lovers a hidden gem is the Dezer Collection Automotive Museum. Hard to describe without seeing it, think an extensive collection of historic cars including Hollywood cars of the stars, cars from a number of James Bond movies, American and European classics and even military vehicles. My favorites were the cars from Chitty Chitty Bang Bang and The Munsters, the collection is overwhelming.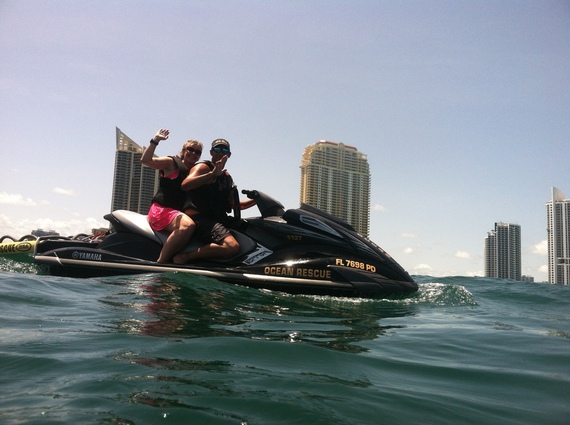 My final activity before heading to the airport for my flight home was to meet with the Ocean Rescue Manager one more time for a jaunt out into the ocean on his jet ski to release several baby turtles. As a non-swimmer I took the attitude of doing one thing every day I feared, this I feared mind you, but who else is safer to be in the ocean with than the ocean rescue manager. The city has a turtle release program in which they regularly have local kids spend some time learning about how to be eco-friendly and care for the environment and in the right season the kids get to release the turtles too.