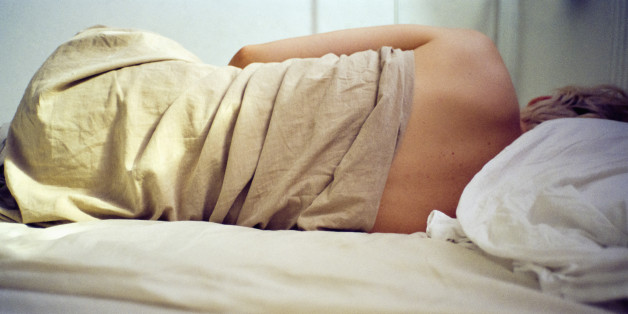 Dearest Lover,
You want to fulfill my fantasies, right? Satisfy my deepest desires? I thought so. That's why I'm going to cut right to the chase and let you know exactly what I want between the sheets: no guessing games, no playing coy, just straight to the stuff that will make me melt. Do these things and I'll be putty in your hands, every time -- I promise.
First, I want you to tell me to drop everything I'm doing. Then take me to the bedroom and order me to get on the bed.
Because you know I have too much to do to actually initiate a nap on my own.
Close the curtains, dim the lights, maybe put on some soft music.
I sleep sooooo much better with the proper ambience.
Then I'm going to take off my bra...
Who can rest comfortably with one on? I mean really?
... and my pants.
Nobody sleeps well in jeans, either.
I want to feel your hands on my body. Lower... lower...
Because a foot massage would be an epic way to kick off this nap.
I want you to whisper in my ear about all the dirty things you're going to do while I'm lying here.
Like mop the dirty floor, wash the dirty laundry, scrub the dirty toilet, bathe the dirty children...
Then I want you to give it to me. Nice and slow.
I mean the pillow. The fat one. Don't just toss it to me -- fluff it first.
Oh, yeah... things are really heating up in here.
Thank goodness we splurged on the extra-cushy comforter.
So let me know the next time you want to participate in this... adults-only activity.
Seriously, don't let the kids see me trying to nap. They'd never allow it.
I want it so badly that I ache.
No, I mean it, I ache. Did you see the size of that last load of laundry I carried up the stairs? Sheesh.
I'm ready, willing, and waiting. Take me to heaven. I'll be forever grateful...
... when I wake up.
Love,
Me
Like Us On Facebook |

Follow Us On Twitter |

Contact HuffPost Parents
Also on HuffPost:
via "Mom Candy: 1,000 Quotes of Inspiration for Mothers"
PHOTO GALLERY
Quotes About Motherhood