The One Young World Conference held in Johannesburg during the first week of October has been a truly inspirational experience for all the participants including myself, who was among 15 delegates from A.P. Moller Maersk Group allowing us to meet and collaborate with delegates, counselors from around the globe. As each one of us learned from other participants, it was exciting to share several initiatives taken by our business group globally while networking with participants from other organizations.
It was mesmerizing listening to inspirational stories of Nelson Mandela from his close friends -- who indeed is now hero for most of us. The food revolution with Jamie Oliver has given me new perspective to opportunities to mitigate global food shortage. Both Kofi Annan and Bob Geldof's dialogue made every delegate in the summit desperate to take action with their optimism, unshaken belief and action-oriented approach. The sports legends (i.e. Boris, Francois, John, Ashwin) showed us how a sport, which is the universal language, can bring radical change in the world. As always, one of the most engaging sessions was conducted by Arianna Huffington who was able to connect world issues with all of us in the most eloquent manner. Their real-life stories were bound to bring tears in our eyes.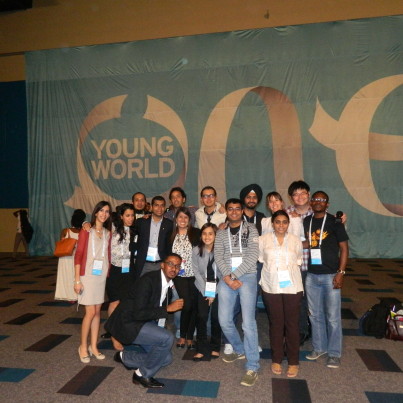 Source: Rizwan Pir Muhammad/One Young World
It is delightful to hear delegate speakers which were well prepared and shared stories of courage and encouragement. One of them was Patricia Pretell from Peru who shared a story of diversity by leading a team of various nationalities and winning awards.
With all these solutions and discussion, it is extremely comforting to see that we have solutions available to every problem being faced by humanity today. However 'Leadership and Government' are the two aspects which are the barriers to 'positive change' today. This was also evident from the house breakout session held on the last day with a theme of 'leadership and government'.
The session was originally planned to be conducted by Lord Michael Hashing with myself and Ziad as moderators. However, due to some last-minute security issues, Lord Michael Hashing was unable to join the session leaving me taking the lead role with Ziad for the session.
The session started with an extremely warm welcome promising to make it the most interactive session despite the last-minute unforeseen issue and giving a brief engaging overview.
After a quick brief, the session was transitioned to interactive theme with Q&A articulated very well. The magic began when people were divided into two halves and asked to discuss their mind on how to make government more accountable. It is extremely delightful to see everyone discussing the issue with great passion.
Later on, the session was moved ahead by asking how to make government more transparent. This rejuvenated the unstoppable energy from the delegates which led to several ideas from everyone in the room. The session was concluded with an overview of discussions by each team.
Never in the past have we witnessed delegates with such thought-provoking ideas who speak their mind in such a candid manner! It was a pleasure to see that the leadership and government session fulfilled the promised by delivering the most engaging discussion. As actions speak louder than words, all of us are determined to 'make a change' when we go back to our countries!