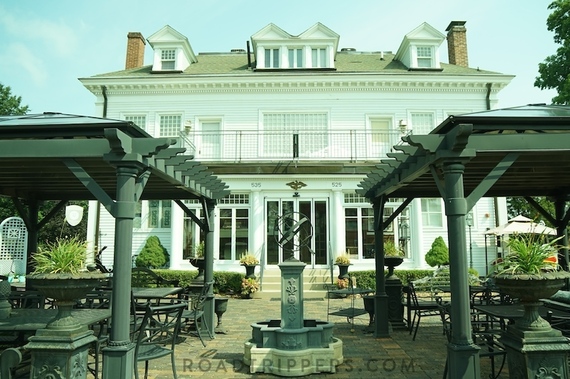 My 10-month-old son and I recently went on a three-week road trip down Route 66, from Chicago to Santa Monica. We stayed in an array of accommodations, from boutique hotels to roadside motels, from Wigwams to Wagon Wheel cabins. One of our favorite nights was spent at the Pasfield House Inn in Springfield, Illinois. As a history buff I was pretty excited to visit Springfield, former home of Lincoln (easily in my top 5 of U.S. Presidents) and a slew of iconic Route 66 spots like the Cozy Dog Drive-In (home of the world's best corn dogs). Oh, and the chilli. Mustn't forget the chilli. Springfield actually passed a resolution in the early '90s declaring itself the "Chilli Capital of the Civilized World."
When we arrived it was very late, but the owner of the Pasfield House, local historian Tony Leone, didn't just leave a light on to make us feel welcome, he personally greeted us with that famous Prairie State hospitality. We felt immediately at home. Then we walked into the Georgian inn, a Springfield Landmark, and were blown away by its well-appointed antebellum style. The home was built in 1896, by the grandson of one of Springfield's most wealthiest citizens, and it's been lovingly preserved, under the care of Mr. Leone since he purchased it in 1996. The massive renovation undertaking was finally completed in 2002. It's now a 6-suite bed and breakfast that just oozes charm.
From the granite-top kitchenettes to the the relaxing jacuzzie baths, every detail has been meticulously thought-out and well-considered by Mr. Leone. I could have easily spent an entire week there, and I was informed that in fact the inn sees quite a lot of visitors, especially repeat guests, who visit while on a Lincoln-inspired pilgrimage. You see, there's a veritable "cult of Lincoln" comprised of history buffs who follow in the footsteps of the sixteenth President and learn as much about his life as possible.
The connection between the Pasfield House and Lincoln is interesting. George Pasfield was a banker who met Lincoln when they both lived in Springfield. They bonded over their experiences aboard a New Orleans flatboat. Pasfield and Lincoln were both involved in establishing the state capital in Springfield and Pafield became the patriarch of one of the wealthiest families in Springfield. Owning acres upon acres of land around the State Capitol.
Talk about location! The inn is within walking distance to the Illinois State Capitol and downtown Springfield. It was also close to the Cozy Dog, so we had corn dogs and french fries for breakfast, because when in Rome... Next time, I'm also going to definitely do the Lincoln Ghost Walk Tour, a spirited 90-minute, 10-block tour of Lincoln's life and death.
Leone has been accumulating accolades for this impressive restoration, as it reflects on the grandeur of Springfield's bygone time, helps encourage and inspire others to rehab historic buildings, and serves as a "catalyst for reinvestment in the once declining neighborhood near the State Capitol."
A little about Leone:
Tony is a local fixture in the Springfield community and for many years he participated in state and local politics. He was the Republican Caucus Clerk of the Illinois General Assembly for over 14 years, during which time he was involved in political fundraising and event planning. This certainly served him well once he started making his foray into the hospitality business. The Pasfield House is a popular venue for weddings, themed dinner parties, fundraising galas, cooking classes under the tutelage of gourmet chefs, and other events.
Leone is a charming character who loves Springfield and wants to promote it to the world. His incredible bed and breakfast is, in my opinion, reason enough to get tourists to the town, and once there, they'll be pleasantly surprised at just how great the Illinois town is. It's got a little something for everyone. Lovers of Lincoln, history buffs, Route 66 aficionados, and foodies will all find something to fall in love with.
Speaking of charming, here's Shelby Stouffe, Assistant Manager at the Pasfield House. She's a fabulous local girl, who's a delight to chat with.
From its landscaped gardens to its lush interior design, the Pasfield House Inn is a destination in and of itself. I can't wait to go back.