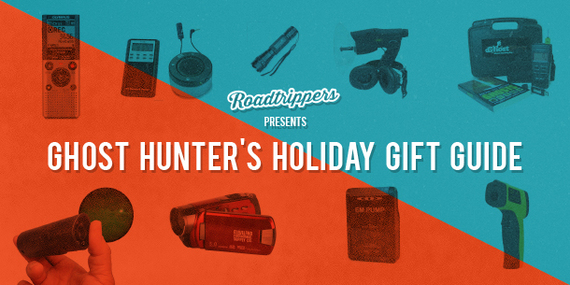 If you have a ghost hunter in your life, chances are they're always talking about some newfangled ghost-detecting gadget they want, need, and just have to have! Don't worry, the ghost hunting experts at Roadtrippers have been busy scouring the Internets to find you all the best spook-sleuthing tools to stuff your loved ones' stockings with. Load up on paranormal goodies, and then charge up your Roadtrippers app and head out to some of the most haunted places in America!
Beginner Ghost Hunting Kit
For any newbie ghost hunters, the beginners kit makes a great start to a paranormal investigation arsenal. If you don't want to spend a ton of money, this is the present for anyone who wants to look like a pro, without having to shell out all that dough.
Mr. Ghost EMF Detector for iPhone
According to, well, just about everyone, ghosts disturb electromagnetic fields, so they can be easily detected with an EMF meter. The one piece of equipment you're always going to carry around with you, though, is your smartphone, and that's why this little Electromagnetic Field Detector is so useful. It plugs right into the headset, and with the use of the app you've got a fully functioning EMF detector without needing to lug a big awkward meter around with you.
Digital Temperature Thermometer Gun
Another generally-accepted "ghost fact" is that wherever they go, the temperature drops. This digital thermometer is perfect for detecting those unexpected cold spots. It's a great, quick way to grab a reliable measurement of any area, though, for obvious reasons, it's best used as an indoor tool.
Ghost Hunting Log Book
You can have all the tools and gadgets you want, but one of the best pieces of equipment is a regular old evidence log book. Don't knock it, it might not have lights and sirens, but a log book should be a part of any paranormal investigator's gear.
EMF Pump
Since ghosts seem to affect, possibly even feed on electromagnetic fields, many paranormal investigators theorize that adding extra electro-magnetic fields back into an environment could help give a spirit more energy to manifest. The EMF pump blasts an area with a charged EMF energy, perfect for indoor investigations.
Night Vision Scope for the iPhone
You can spend thousands of dollars on a good night vision scope, but why, when you could just use your iPhone? The wireless smartphone snooper will help you see your way around in dark places without having to spend an arm and a leg.
Parabolic Microphone
In recent years the parabolic microphone has become one of the most sought-after pieces of paranormal investigation equipment. Thanks to paranormal television, the popularity of capturing Electronic Voice Phenomenon (or EVPs, generally believed to be the digital voices of spirits captured at frequencies too low for humans to hear unaided) has risen, and with it, cool new tools used to capture them.
Olympus VN-702PC Voice Recorder
The classic digital recorder is usually the tool of choice to capture EVPs, and though some paranormal investigators are still dragging around their old micro-cassette recorders (myself included) a good digital recorder is a must-have for any kit.
Altec Lansing iM227 Orbit MP3 Speaker
Expanding on the idea of EVPs are devices known as "Spirit Boxes", pieces of equipment with thousands of preprogrammed words that ghosts can allegedly manipulate to "speak". There are loads of different Spirit Boxes, some of which can get very expensive. Save your money and get something inexpensive.
Dowsing Rods
Not a terribly popular tool anymore, but there's nothing wrong with adding a reliable pair of dowsing rods to your gear, because you never know when you might unexpectedly run out of batteries. Why not have some backup?
Infrared Night Vision and Full Spectrum Camcorder
Most importantly, you're going to want to try to capture your potential evidence on film to show the rest of the world. You've probably got a GoPro or two, but what you're really going to need is a night vision camera.
Ultraviolet LED Flashlight
Sure you've got tons of flashlights, but do you have an ultraviolet LED flashlight? Maybe not. There have been many controversial theories about ultraviolet light over the past few years, one of which revolves around daytime vs. nighttime appearance of spirits. The idea being that the UV light during the day keeps the ghosties at bay, which is why there are so many reports of paranormal activity happening during nighttime. Don't believe me? A UV flashlight might be perfect to conduct some experiments of your own!
So there you have it, ghost hunters! A little something for everyone, from a variety of different price ranges and interests. If you love ghosts, and you love spending countless hours in old buildings waiting for something strange to happen, you'll love any one of these awesome toys!
Looking for more last-minute gift guides?