If The Godfather has taught me anything, it's that crime doesn't pay... well, ok maybe it does, but still, it's a dangerous game with high wins and even higher losses. If you live a life of crime, chances are you'll find yourself on the run. When the heat is on and you've got to get the hell out of dodge, a hideout can mean the difference between freedom or a life in the slammer. Just ask these crime icons.
1. Black Bart 
Charles Earl Bowles, aka Black Bart, was an old west American outlaw. In fact, he was the baddest mother of the bunch. After a string of the most successful stagecoach robberies in history, old Bart did a stint in San Quentin Prison and then disappeared. He was reported to have been hiding out in the basement of this building, but after being spotted here he was never seen again.
George Kelly was one of the most infamous prohibition era gangsters of his time, best known for the kidnapping of millionaire oil tycoon Charles F. Urchel. George spent his final 21 years in jail, 15 of them in Alcatraz. This hideout on Rayner Street in Memphis was the end of the line for Kelly -- he and his wife were arrested on September 26th, 1933 and he was thrown into a Kansas slammer.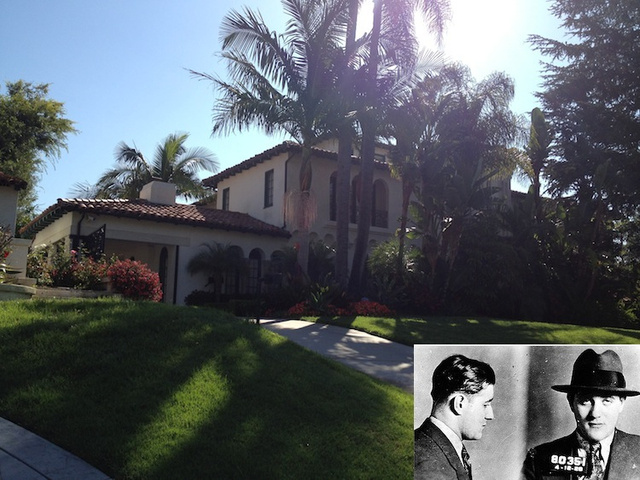 Bugsy Siegel was the most feared gangster of his time, famous for being the first "front-page-celebrity" gangster of the '30s. He was also credited as being one of the driving forces behind the creation of the Las Vegas Strip. He was murdered in his home on June 20th, 1947.
Though no one was formally arrested for the shooting, it was believed that Siegel's death was at the hands of the mob.
4 & 5. John Dillinger and Baby Face Nelson 
The American bank robber of the depression-era, John Dillinger, was reported to have robbed as many as two dozen banks and four police stations during his run. Dillinger escaped prison not once, but twice, and was given the title of most notorious of all violent criminals, ranking higher than even Baby Face Nelson and Bonnie and Clyde. Dillinger was shot and killed outside of the Biograph theater on July 22nd 1934.
Little Bohemia Lodge was the infamous hideout where Dillinger and his men escaped the FBI after a botched raid on the building.
Lester Joseph Gillis, aka "Baby Face" Nelson, earned his nickname on account of his small stature and youthful appearance. That, however, didn't stop him from becoming one of the most notorious bank robbers and infamous murderers in history. He helped John Dillinger during the famous Crown Point Indiana jail escape, and at the young age of 25, he was shot and killed by FBI agents during "The Battle of Barrington."
Little Bohemia Lodge became one of the most infamous hideouts connected to Nelson, after he shot his way out of an attempted arrest, stealing an FBI agents car and disappearing without a trace.
6. Jesse James
American outlaw Jesse James is one of the most legendary figures of the Wild West-era. He was known for being a bank robber, gang leader, and notorious murderer. James was the active leader of the James-Younger Gang from 1866 to 1876, until an attempted robbery landed several members in jail or dead. James was gunned down by Robert Ford, a fellow member looking to collect the bounty on his head. Rumor has it the Meramec Caverns were the 1870s hideout for Jesse James and his gang.
Bonnie and Clyde were the unforgettable outlaw couple who tore around middle America during the Great Depression, killing and robbing as they went. The duo were reported to have killed over nine police officers during their escapade across the country. They were eventually ambushed in North Louisiana.
This garage on 34th street in Joplin, Missouri acted as a hideout for the gang who were attempting to lay low. Unfortunately for them, a nosey neighbor recognized the infamous group and notified the authorities. When police attempted to arrest the duo, they shot their way to freedom, killing an officer in the process.
8. Al Capone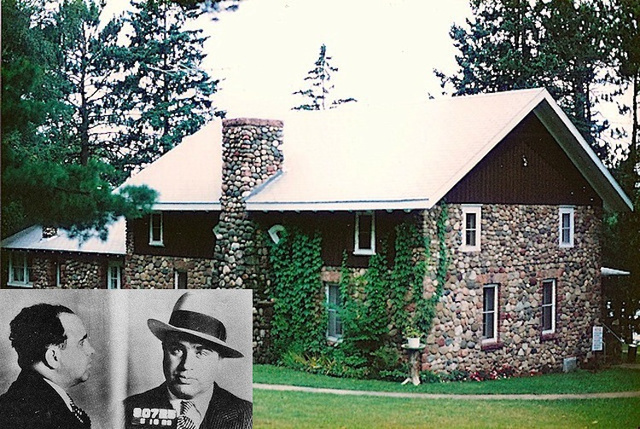 Al Capone was the head of the prohibition crime syndicate in Chicago. Chances are if you were dancing and drinking booze in Chicago during the '20s, it was all thanks to the "Capones". He was viewed by many in his time as the "modern-day Robin Hood", but that all ended with his connection to the Saint Valentine's Day Massacre. Capone would eventually be arrested for tax evasion and sent to Alcatraz where he would die after suffering a stroke.
During his heyday, Capone would escape the hustle and bustle of the busy Chicago at this hideout in Northwood Retreat.
Lucky Luciano is the godfather of modern organized crime in the United States, known for his work in splitting the New York crime syndicate into the "Five Families." Luciano was arrested in 1936 after being implicated in a massive police raid against 200 brothels in Brooklyn and Manhattan. But prison couldn't stop Luciano from continuing his control over the families until 1938 when he finally stepped down... from prison.
His famous hideout is also his childhood home and it still stands in New York today.
10. Billy the Kid
Billy the Kid was a gunman and a frontier outlaw during the American Old West era. He killed his first man at the ripe age of 15 and went down as one of the most celebrated gunmen of his time. After escaping imprisonment, Billy was hunted down outside of Fort Sumner and shot fatally, once in the chest, at the age of 21.
During his time on the lam, Billy and his gang were reported to have holed up on the Black Hills Range in Didalgo County, where many believe he carved his signature into the rocky hill face.