Warning: This post contains graphic images and may not be suitable for all readers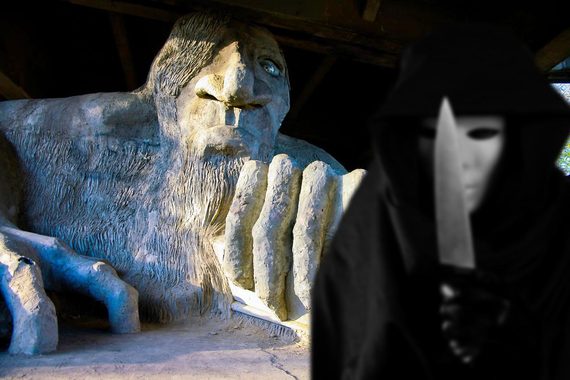 The Fremont Troll has been a Seattle staple since its creation in 1990, so it's no surprise that people have come to revere the big guy under the bridge. But after a collection of freshly skinned animal heads were found in his presence, police are worried a mysterious group might actually worship the statue.
Police on a routine patrol down Troll Ave at 2:30 a.m. last Friday were startled when they came upon a grisly scene -- a collection of bloody animal skulls scattered throughout the vicinity of a home directly opposite the Troll.
"Ten of the animal skulls were spread across the lawn and two were placed on a porch -- one was left on a chair," Seattle Police explained in their blotter. "The skulls appeared freshly skinned and still bloody. Police do not currently believe the skulls belonged to any animals typically kept as household pets."
When police questioned the neighbors, they had no idea where the skulls had come from, but one of the residents mentioned that he had to "run off" a group of kids the previous night, leading the police to wonder if they had left the heads as an offering to the troll.
Creepy.
Someone was kind (?) enough to post a few images of the bizarre scene to Reddit, but just to warn you, they're a little gross.