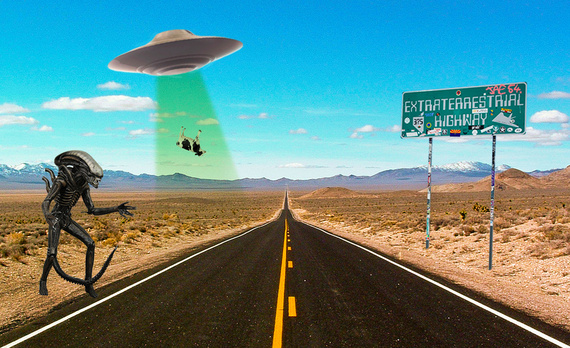 Astrophysicist (and massive sex symbol) Neil Degrasse Tyson recently questioned whether human beings were too stupid for aliens to contact. While he may have a point, if Neil's interested in finding intelligent life on Earth, he should road trip down the Extraterrestrial Highway. It's loaded with tiny gray men.
There are several major UFO crash sites along the Extraterrestrial Highway, including Ely, NV (where 16 aliens allegedly perished), Kingman, AZ (eight miles from Kingman AFB), Aztec, NM and Carlsbad, NM.
Here's our interactive map of UFO Crashes (and other extraterrestrial hotspots):
However, there's more to the E.T. Highway than just alien crash sites. It's a veritable playground for UFO enthusiasts. Along Nevada State Route 375, you'll find the Black Mailbox (though now it's actually white). It's a locked box that's protected by a quarter-inch-thick bulletproof metal, located along Tikaboo Valley off a dirt road (which leads to the restricted Area 51). Allegedly, there are between two to three UFO sightings here a week! The mailbox was also a prominent filming location for the movie Paul.
If you get hungry or need a place to sleep for the night, pull over to the Little A'le'inn, a bar, restaurant and motel. Here you can order the "Alien burger" and learn about Area 51.
There's also the civilian-run Area 51 Research Center in the same town, which closed down in 2001. This was an iconic research center that focused its attention on Area 51 conspiracies and cover-ups. This is the town where the two-part X-Files episode "Dreamland" was filmed (the one where Mulder switched bodies with an Area 51 goon and almost got it on with Scully...it's also the episode where we learn more about Mulder's secret porn habit).
The Alien Research Center in Hiko, NV is another great photo-op for alien enthusiasts, and if you're lucky it'll be open when you're passing through.
Next, head south, past UFO crash sites and more alien-themed diners, to Roswell, NM. This mecca of extraterrestrial education will teach you everything you need to know about the government's cover-up of the Roswell crash. Spend the day at the UFO Museum and Research Center, and don't forget to pick up your souvenir alien t-shirt at the Alien Zone store!
There you have it, Dr. Tyson. The truth is out there. Please e-mail me if you have any questions, or if you'd like to get together sometime to talk about astrophysics or whatever. I'll bring the wine coolers.
Use Roadtrippers to view this trip on the map & sync to mobile for turn-by-turn navigation. Hit us up on Facebook.