I've always had a thing for travel.
In my twenties it felt so good being able to bounce from place to place, hop on a plane on a whim, and hit the road whenever I felt like it. Now that I'm in my thirties, and a new mom, things are…different. As everyone keeps telling me, "Motherhood changes you." "You'll never be the same." More responsibility, less opportunity for spontaneity…
I got an itch and decided I had to get on the road. So, I'm taking my 9-month-old baby, Bruce, down Route 66. Just me and him, driving down America's Mother Road. This iconic route seems an appropriate place to start what I hope will be a lifetime of adventures for my kid.
Here's our trip, broken up into three legs:
Leg 1 (Chicago to Cuba, MO)
Leg 2 (Richland, MO to Tucumcari, NM)
Leg 3 (Tucumcari, NM to Santa Monica, CA)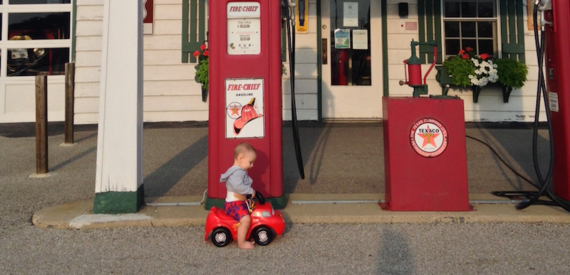 Any places I missed? Please leave suggestions in the comments and I'll add them to the route. I'm looking for the best-kept, most-awesome hidden gems along Route 66.