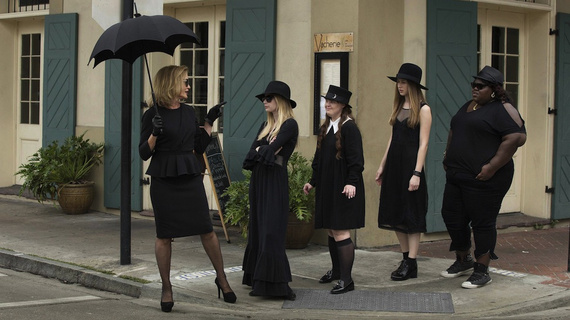 When American Horror Story chose New Orleans as the setting for the third season, they decided to go balls-out Southern Gothic. From slave-torturing immortal bitches to a coven of misfit belles trying to control their powers and wanton desires. Here are all the major filming locations for American Horror Story: Coven.
Miss Robicheaux's Academy aka Buckner Mansion is located in the Garden District of New Orleans. It was built in 1856 by a major cotton magnate and served for many years as a prominent business school. The mansion is now privately-owned but you can rent it out for $20,000.
Tau Omega Alpha Fraternity House
The fraternity house where Emma Roberts is taken advantage of and quickly delivers some badass vengeance, is actually Round Table Clubhouse across from Tulane University. The building has been a clubhouse since 1919 for members interested in literature, art and science. Today, you can rent it out for weddings.
Lalaurie Mansion is featured as Madame Lalaurie's House of Horrors. It's a major stop on any French Quarter ghost tour. According to legend one night in 1834 a fire broke out at the house and when rescuers entered the home they found the mutilated remains of slaves who were imprisoned in the attic and one who was chained to a kitchen stove. A mob ransacked the mansion and Madame Lalaurie presumably fled the city and was never seen nor heard from again. Over the years the building has served as a barber shop, furniture store, girls school and music conservatory. Nicolas Cage even owned the home, til he had to give it up to pay back taxes.
Gallier House served as the exterior for Madame Lalaurie's Mansion. This is where Nan hears Madame while on the witches walk. The house was built in the 1850s and is a National Historical Landmark. You can visit it today on a public tour.
The interior shots of Madame Lalaurie's mansion were filmed here at the Hermann-Grima House. The 1831 home is now a historic house museum and is open for tours.
New Orleans Adolescent Hospital
This pre-Civil War plantation was the filming location for the New Orleans Adolescent hospital where Kyle is brought back to life. The site served as a Marine hospital, a public health clinic and an adolescent hospital over the years. However, recently it has deteriorated and is home to many feral cats. However, it's soon to be reopened as a children's hospital.
This is the restaurant where Fiona and Madison have brunch. It's a gorgeous building with a fantastic reputation for New Orleans food. Try the Duck Hash or Eggs Treme. Oh, there's also a Make-Your-Own Bloody Mary Bar.
Maison Vitry served as the filming location for Marie Laveau's Cornrow City Salon where Fiona visits for her immortality spell and Cordelia seeks out her help with her fertility issues.. It's a gorgeous house in the Treme neighborhood of New Orleans. It was built in 1855 by an free African-American woman. It is available to rent for $350/night with a minimum 3-night stay. Or you could book a tour.
This is the bridge where Zoe drives Kyle to the swamp and gets a surprise visit from Misty Day in the backseat. It has also been featured in the film Deja Vu and the HBO series Treme. The Crescent City Connection crosses over the Mississippi River, and connects the east and west banks of New Orleans. However, don't think crossing this bridge will take you directly to the bayou, you're actually heading straight into strip-mall purgatory.
This hip bar is where Fiona goes to have a well-deserved martini. With artisanal cocktails and no sign outside, it's obvious that this is a New Orleans hotspot. Try the White White cocktail next time you're in the neighborhood.
Royal Street
After Madame Lalaurie runs away from the coven in Episode 2 this is where Fiona finds her sitting on the sidewalk. She must have felt right at home amongst the antique stores that line this historic avenue. Royal Street is parallel to Bourbon Street and is quite a posh area of NOLA.
BONUS! SEASON 1
Rosenheim Mansion was the location of the "Murder House" from American Horror Story, and it's currently for sale!
BONUS! SEASON 2
Old Orange County Courthouse served as the Briarcliff Manor Exterior in American Horror Story: Asylum.
Visit Roadtrippers' Film Spotting Guide for routes and filming locations to all your favorite TV shows and movies. Hit us up on Facebook.