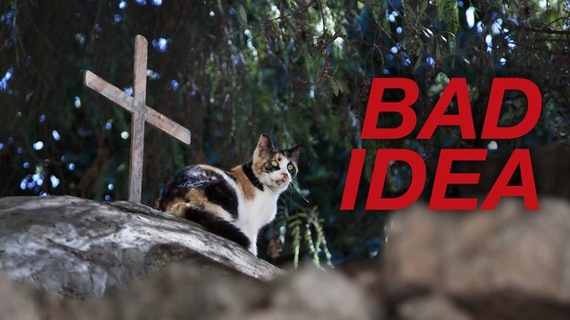 No, this isn't a Halloween joke. The Stanley Hotel, that terrifying hotel that served as inspiration for Stephen King's The Shining, is digging up its historic pet cemetery to make room for a new wedding and corporate retreat pavilion. The site in question is a 12-grave pet cemetery. Yeah, that's gonna end well.
Amateur ghost hunters and psychics report that mysterious accidents could be avoided if the animals are allowed a peaceful transition. "Elsie, Holmes and Stanley Blue I, II and III are among roughly dozen marked graves dating back to the 1960s, with stones and a tiny white fence marking the cemetery." Estes Park, CO resident, Rosemary McArthur (a.k.a. "The Celtic Lady") is a renowned dog psychic who has offered her services in order to guide the animals into the light.
For its part, The Stanley said it will use the utmost care when moving the graves. Yeah, cause that worked so well for Cuesta Verde development:
Visit Roadtrippers' Haunted Happenings Halloween Guide for all the scariest stuff across America.