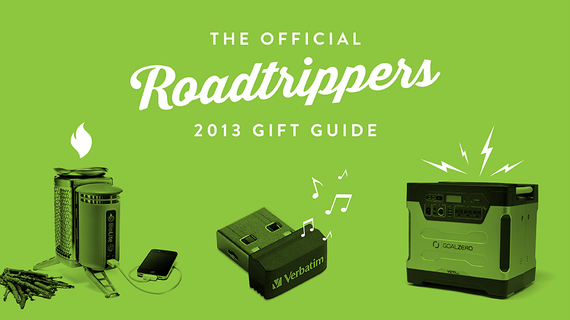 With all the awesome car gadgets available, we're living in the golden era of highway comfort. Whether you're struggling to find a road warrior the perfect gift, or you're just pondering what to snag when you return that crappy one, our guide has some of the coolest stuff for those who love the open road.
Dive into the Official Roadtrippers 2013 Gift Guide below, and if you see something you like, follow the links!
Whether you find yourself needing drink on the side of a mountain or in sketchy restaurant, this UV water purifier ensures you'll have a safe sip no matter where you are.
Do you know someone who enjoys camping off the beaten path? Chances are a hot shower is hard to find in the wilderness. This solar powered travel shower heats up to ten gallons of water. Now there's no excuse to be a dirtbag.
Perfect for those longer road trips, this cooler plus into your vehicle's 12V plug and uses less electricity than your headlights. With 29 cubic feet of storage capacity, you'll pack enough snacks for everyone.
Toss out those old flares! These reusable emergency flares can be seen up at 1/2 a mile away and reduce the risk of fire or ground contamination.
This noiseless, fume-less power generator can be charged from your vehicles 12V plug.. or the sun! It'll power anything you throw at it, including a full size fridge!
This quick-setup tent attaches to your SUV's roof-rack, turning your vehicle into part of your campsite! Perfect for people who like sleeping in the back seat.
This tiny USB plugs into your vehicle's stereo and holds up to 2,000 MP3 files! It's low profile design ensures that it won't look like an ugly wart protruding from your dashboard.
If you travel with kids, this headrest-mount turns your tablet into a movie screen that's sure to keep the rugrats from pestering you too much.
Quite possibly the coolest thing on this list, this stove generates thermoelectric energy from your kindling to power your electronic devices. It doesn't even need fuel!
Not only does this tiny connector give you a full diagnostic overview of your vehicle's health and performance, but it turns your smart phone into a remote control capable of popping the truck, unlocking your doors, and more!
Equipped with state of the art voice commands, the Supertooth bluetooth speaker is the perfect way to talk and drive. It's got 20 hours of talk time, 1000 hours of standby, and charges in just 3 hours!
The Star-Wars fan in your life will be thrilled to have his very own droid sidekick. R2 rides in your cup holder, charges your portable devices, and even talks to you!
---
Use Roadtrippers to plan all your highway adventures.Follow us on Twitter and Facebook.