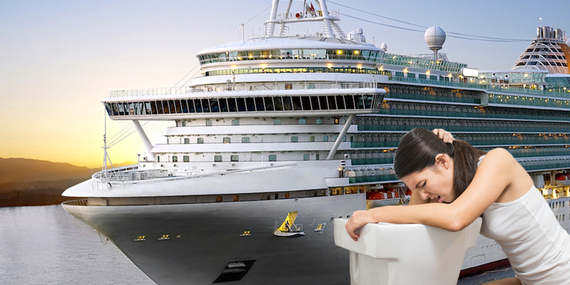 It's with a heavy heart that I write this. Having grown up watching reruns of Loveboat, rarely did a cold, New England day go by when I didn't dream of walking across the Lido deck to a smiling bartender, waiting behind a well-stocked bar with a cocktail in hand. Well, gone are the days of Lido Decks and Bain de Soleil-drenched chaise-lounges. All cruise ships are now potential carriers of disease, overflowing with feces.
Just look at this past viral voyage from January. Or this one from February.
This past week the AP reports that a Crown Princess cruise sailing to ports in California afflicted over 80 passengers and crew members with the highly-contagious norovirus. If you're unaware norovirus attacks your stomach and intestines and is spread by touching an infected person, eating or touching contaminated food or water, or just by touching contaminated surfaces. It can affect anyone.
Princess Cruises spokeswoman Karen Candy said on Wednesday that 66 passengers and 17 crew members were sick and had to be isolated to their cabins aboard the Crown Princess. That's up from about 37 passengers who reported being sick while the ship was in San Francisco on Monday.
The norovirus is no joke. It's gone by many names, Montezuma's Revenge, Shiva's Shit-Storm, and my personal favorite, William the Conqueror's Exploding Bunghole Disease.
The Crown Princess's seven-day path of destruction culminates in Los Angeles this Saturday. Friends and loved ones of passengers aboard are advised to stock up on Pepto Bismol, toilet paper and wet wipes. Stay vigilant.