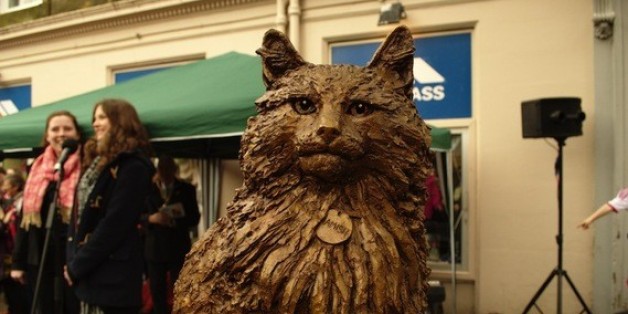 Last month the Scottish town of St. Andrews unveiled a new statue of their local cat celebrity — the lovable 14-year-old ginger stray, Haimish McHamish.
More than $8,000 was raised by the community to immortalize the fuzzy feline, who has spent the last several years adventuring nomadically around town. Don't worry cat-lovers, Hamish's previous owner, Marianne Baird, makes sure he gets yearly trips to the vet, explaining that Hamish is at his happiest being the town's kitty mascot.
The idea to create the statue was a no-brainer, and when Flora Selwyn created the fundraiser, the rest of the town rallied around the idea, with their wallets in hand.
"Our statue is a way of saying thank you to Hamish for being so 'purrfectly' adorable and to celebrate him and the joy he brings us," she explained.
Hamish himself attended the unveiling event, and arrived to greet his adoring fans in a convertible, his fluffy ginger mane blowing in the wind.
If you're interested, the statue can be found at the center of Church Square, where it will remain as a reminder that cats really do own their owners.