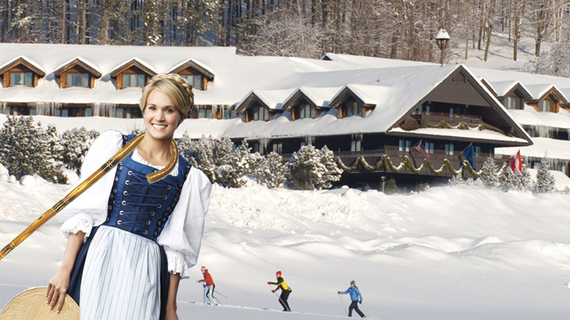 NBC's "revival" of The Sound of Music might not have been a great idea, and casting Carrie Underwood might have been a misstep, but the widely panned television event wasn't bad for everyone.. namely, The Von Trapp Family Lodge.
The original Sound of Music is one of the most beloved musicals of all time, and was inspired by the real-life, singing and dancing Von Trapp family who moved to Vermont from Austria in 1942. Together, the family built a lodge, started taking in boarders, and before long, they were running one of the state's most popular skiing destinations.
So what did members of the Von Trapp family think of the revival? Well...
"I found the overall production to be completely underwhelming and mediocre at best," blogged Francois von Trapp. "I kept wondering why NBC would settle for a community theater quality production."
On the casting of Carrie Underwood? Francois says she has nothing against her, but that she's pretty sure her father "is repeatedly rolling over in his grave."
On a positive note, the live show has revived interest in The Trapp Family Lodge (who were quick to remind us that Francois is not affiliated with their resort), which has seen an increase in traffic both online and in real life, further proving that any publicity is good publicity.
If you want to check out the Von Trapp Lodge for yourself, the holidays provide a special treat. Aside from the cross country skiing, snowshoeing, and a host of special holiday decorations, the four surviving members of the Von Trapps actually get together with guests to sing carols on Christmas Eve.

CORRECTION: This post previously stated that Francois Von Trapp was affiliated with the Trapp Family Lodge. The post has been updated to clarify that she is a relative, but is not affiliated with the Lodge.