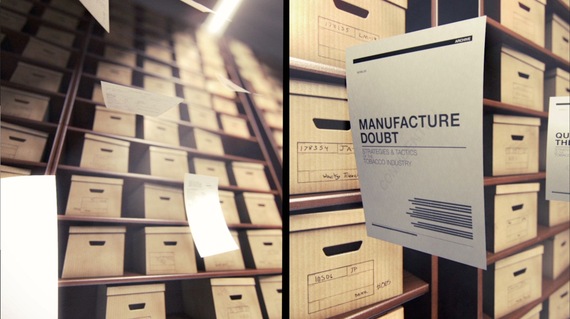 In his new documentary, Merchants of Doubt, filmmaker Robert Kenner (Food, Inc.) explores the ways in which corporate interests use media to create confusion and raise doubt over what might otherwise be considered scientific consensus. Beginning with the playbook established by the tobacco industry years ago, Kenner tracks the tactics through the effort to mandate the use of cancer causing and useless, supposedly flame retardant chemicals in furniture and clothing and into the current campaign against climate change legislation.
As in his best known film, Food, Inc.. Kenner excels at finding visuals to tell the story of potentially esoteric information, making Merchants of Doubt an enjoyable watch. In the video below, I recently had the opportunity to host a conversation with Kenner and Corporate Accountability Intl.'s media director, Jesse Bragg, at NeueHouse in New York.
The film opens in New York and Los Angeles March 6th and opens for wider release March 13th.
Follow Rob Feld and the Day for Night series on Twitter and on Facebook.