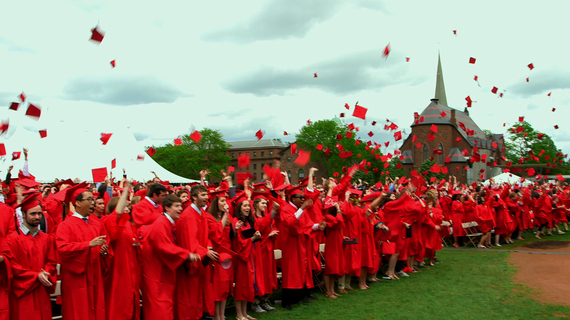 In Andrew Rossi's new documentary, Ivory Tower, Rossi (Page One: Inside The New York Times) explores the rising cost of a college education in America and asks the unfortunate question, Is it worth it?
Competing for students, colleges and universities have embraced a business model of ever increasing, and potentially unnecessary expenditures, the burden of which get passed on to students. Are yoga studios really necessary for higher education? Is this a mind-expanding time of study or a resort experience?
Rankings like those produced by U.S. News & World Report drive competition between schools to add perks to the college experience, and with the guarantee of government backed student loans, the institutions have little incentive to pull back.
With a dearth of blue collar jobs in the current American economy, and higher education increasingly seen as the path to middle class security, students are now graduating with crippling debt and the system may be on the verge of collapsing.
Here I spoke to Rossi about his discoveries and where he may see a chance for change.
Ivory Tower opens June 13 in select cities.
The Ivory Tower from Day for Night talks on Vimeo.
Follow Rob Feld and the Day for Night series on Twitter and Facebook.