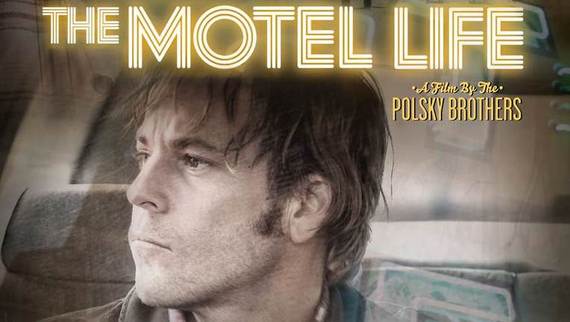 The Motel Life, based on the novel by Willy Vlautin, is a heavily atmospheric indie film co-directed by producers-turned-helmers, Alan and Gabe Polsky. Emile Hirsch and Stephen Dorff play down-and-out brothers (Frank and Jerry, respectively) in Reno, Nevada; well intentioned losers, born under a bad sign. As children, Jerry sustained an injury which has rendered him dependent upon Frank ever since, and has now committed an inadvertent sin which may finally drag Frank down with him for good.
The film is peppered with texture-giving animation by Mike Smith, who's work also appeared in Oliver Stone's Natural Born Killers, but the real discovery for me in this movie was Stephen Dorff. Dorff has worked steadily for many years --I Shot Andy Warhol, Blade, Cecil B. DeMented, Public Enemies, to name a few-- but hasn't broken out in the way perhaps he should. In The Motel Life, he captures a complex vulnerability and charm for the outsider character he portrays, in a way that I personally hope gets him some attention.
Dorff seems happy with the results of the film, and believed in it enough to reach out to Kris Kristofferson, and ask him to join the cast. Below is a clip of that story from a Q&A I recently hosted with Dorff and the Polsky Brothers at a private awards season screening of The Motel Life, as well as the session in its entirety.
Follow Rob Feld and the Day for Night series on Twitter and on Facebook.
Stephen Dorff on wrangling Kris Kristofferson from Day for Night talks on Vimeo.
Stephen Dorff Lives THE MOTEL LIFE with the Polskys from Day for Night talks on Vimeo.