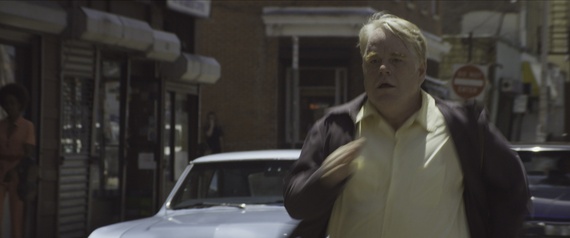 The Day for Night series traveled to Sundance to talk to some of the filmmakers and cast with films playing at the festival this year.
John Slattery's (Mad Men) film, God's Pocket, which he directed and co-scripted, boasts an impressive list of veteran actor's actors: Philip Seymour Hoffman, John Turturro, Richard Jenkins, as well as Slattery's cohort from Mad Men, Christina Hendricks, to name a few. IFC Films bought the adaptation of Peter Dexter's novel about a unique neighborhood and its thugs at Sundance, so it will be distributed. Below, Slattery, a class act, talks about how he worked with his cast.
The Sleepwalker is an atmospheric, psychological film written, directed and performed by a group of talented young actors. In one conversation, Christopher Abbott (Girls, Martha Marcy May Marlene), Gitte Witt and Stephanie Ellis discuss acting in the film, and in another, director Mona Fastvold and her co-writer, Brady Corbet (Martha Marcy May Marlene, Melencholia, Funny Games), discuss the overall collaboration.
Jamie Marks is Dead is an adaptation of Christopher Barzak's novel "One for Sorrow." It's a story of supernatural friendship featuring Morgan Saylor (Homeland), Madisen Beaty (The Master, The Fosters), Noah Silver (Tyrant, The Borgias) and others. Here, the young cast, along with photographer turned writer/director, Carter Smith, relate the challenges of making the visually arresting film on a budget.
Follow Rob Feld and the Day for Night series on Twitter and on Facebook.