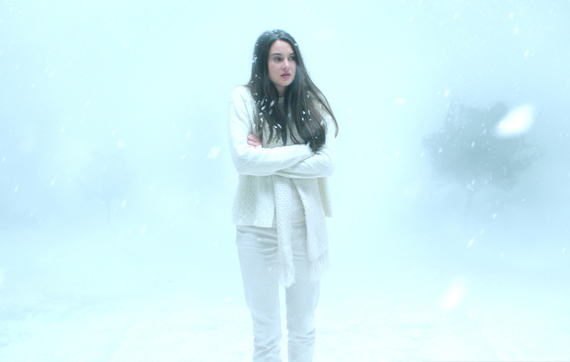 The Day for Night series traveled to Sundance to talk to some of the filmmakers and cast with films playing at the festival this year.
Life After Beth is a comedy with a zombie twist, boasting some great talent: Paul Reiser (Mad About You, Aliens), Cheryl Hines (Curb Your Enthusiasm), Molly Shannon (Saturday Night Live), Aubrey Plaza (Parks and Recreation), Dane DeHaan (True Blood, Kill Your Darlings), and Matthew Gray Gubler (Criminal Minds, (500) Days of Summer). From their dynamic alone, you can tell they had fun making it.
White Bird in a Blizard stars Shaileen Woodley (The Descendants, The Spectacular Now) and was directed by indie vet Gregg Araki (Nowhere, But I'm a Cheerleader, Mysterious Skin). Woodley plays an adolescent girl in a repressive household, discovering her sexuality. Below, Woodley talks about working with Araki and the roles that interest her.
Mark Duplass is an indie staple who has re-pioneered a Neo-Realism as an actor, producer, writer and director in films like The Puffy Chair, Cyrus and Humpday. In The One I Love, he plays opposite Elisabeth Moss (Mad Men, The West Wing) in a sci-fi, more stylized turn for the both of them. He talks about that decision and process with first time feature director Charlie McDowell.
Follow Rob Feld and the Day for Night series on Twitter and on Facebook. [https://www.facebook.com/pages/Day-for-Night-Talks/500183976738572]