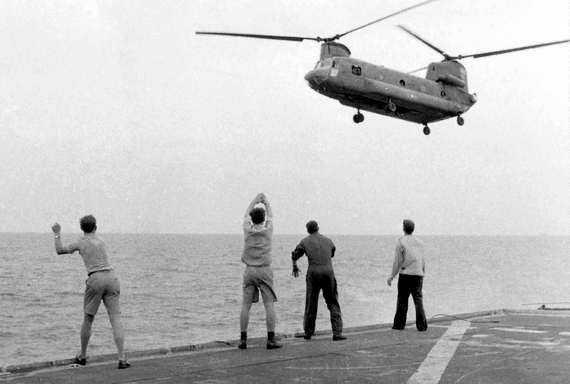 After the ceasefire laid down by the Paris Peace Accords, the United States thought North and South Vietnam would relatively stabilize, as North and South Korea had done. After President Nixon left the White House, however, the North Vietnamese began a steady march toward Saigon. It began to become clear that not only would the U.S. embassy and its 6,000 non-combat troops and advisors soon need to be evacuated, but that the thousands of South Vietnamese who had worked for or in one way or another been involved with the Americans would then be put in grave danger. Policy makers delayed and dithered on the decision as the North marched ever closer.
In her new documentary, Last Days in Vietnam, filmmaker Rory Kennedy (Ghosts of Abu Ghraib, Ethel) surrounds the events that transpired as a group of Americans took it upon themselves through a series of back ops to shuttle as many Vietnamese out of the country as they could. Through interviews with policy makers like Henry Kissinger, marine guards who were at the embassy in Saigon, and newly found footage, Kennedy, daughter of Robert Kennedy, weaves a riveting story of escape.
The events comprise one of those moments in American history you have probably heard a little something about, but had no idea of the full story or its implications. I recently hosted an event where Kennedy spoke more about the events behind the film and how it came together, video fro which can be seen below.
Last Days in Vietnam opens this week and shouldn't be missed.
Follow Rob Feld and the Day for Night series on Twitter and on Facebook.
Rory Kennedy on LAST DAYS OF VIETNAM from Day for Night talks on Vimeo.