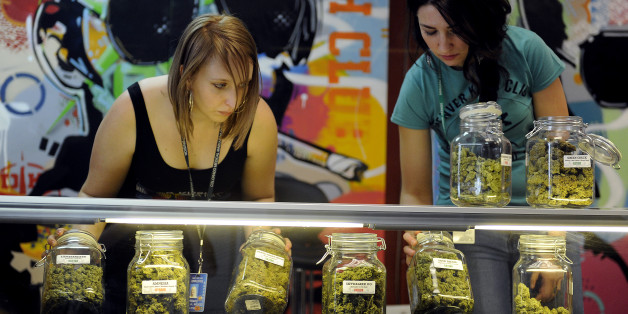 This is my annual survey of the most significant marijuana policy developments in the United States.
This means it excludes foreign developments, such as Uruguay becoming the first nation to legalize marijuana. It also omits scientific developments, which I prefer to leave to other experts.
1. Public Opinion Polling: Public support for making marijuana legal reached a record high in 2013. A Pew Research Center poll released in April showed 52 percent support, and a Gallup poll in October showed 58 percent support. I believe the Pew poll is likely more accurate -- last year's Gallup poll found 48 percent support, and it's difficult to boost national support by 10 percent in just one year -- but it's now safe to say most Americans are fed up with marijuana prohibition.
2. Legalization in Colorado: Amazingly, the regulatory work carried out by the governor's marijuana task force, the state legislature, the Colorado Department of Revenue and many city governments went according to plan. In addition, 65 percent of Colorado voters passed a tax measure in November that was essentially the second part of the legalization initiative adopted in 2012. As a result, retail establishments are now legally selling marijuana to adults 21 and older, making world history.
3. Legalization in Washington State: While the voter-approved initiative in Washington isn't as good as the one in Colorado -- and the regulations and taxes appear to be a bit more burdensome -- the process worked. This spring or summer, Washington will become the second state in which retail establishments begin selling marijuana to adults.
4. Medical Marijuana in Illinois: After 10 years of lobbying in Springfield, the Illinois government legalized medical marijuana in August, making it the 20th state to do so. As a result, approximately 22 grow facilities and 60 retail establishments will crop up by the end of this year.
5. Medical Marijuana in New Hampshire: After eight years of lobbying in Concord, the New Hampshire government legalized medical marijuana in July, making it the 19th state to do so. Approximately four dispensaries are expected to pop up by early next year.
6. Decriminalization in Vermont: With the leadership and signature of Gov. Peter Shumlin (D), the Vermont government decriminalized marijuana possession in June. As a result, people 21 and older are now being cited with a ticket and a fine, rather than being arrested and jailed.
7. U.S. Justice Department's memo: In August, the U.S. Department of Justice issued its third marijuana-related memo since President Obama took office in January 2009. This time, it stated that the DOJ would not interfere with state-level marijuana laws, such as those passed in Colorado and Washington. Significantly, the memo stated that it wouldn't be a problem if the marijuana businesses were large and making profits, which was a significant departure from the memos that the DOJ issued in 2009 and 2011.
8. Congressional legislation: In April, Congressman Dana Rohrabacher (R-CA) introduced a bill to allow states to determine their own marijuana policies without federal interference. This bill, which had been introduced by former Congressman Barney Frank (D-MA) during the 2011-2012 Congress, has already attracted 20 cosponsors, including 5 Republicans. This is the ideal bill that Congress needs to pass.
9. Medical Marijuana Dispensaries in DC, Nevada and Oregon: In July, the first medical marijuana dispensary opened its doors in the District of Columbia -- a full 15 years after D.C. voters passed the original medical marijuana initiative in 1998. Also, the Nevada and Oregon governments passed similar dispensary laws, so we can expect to see retail medical marijuana sales in both states by mid-2014.
10. Four local ballot initiatives: In November, 67 percent of voters in Portland, Maine approved a ballot initiative legalizing marijuana possession on the local level. This is how the movement in Colorado started -- 53.5 percent of Denver voters passed a similar local ballot measure in 2005. Maine is on track to replicate that success and legalize marijuana via a statewide ballot initiative in November 2016. In addition, voters in three Michigan cities -- Lansing, Jackson and Ferndale -- approved similar local initiatives.
If you're wondering what 2014 will bring, I'm predicting that Rhode Island, Alaska and Oregon will become the third, fourth and fifth states to legalize marijuana. The months for this will be June, August and November, respectively. As always, the likelihood of such victories is dependent on fundraising, which we cannot control.