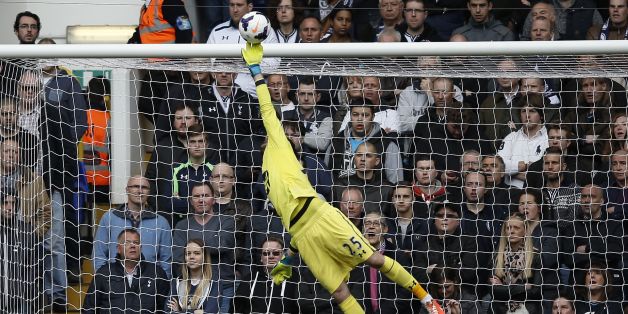 Tottenham ended a forgettable 2013-14 campaign with a 3-0 victory over Aston Villa at White Hart Lane, giving Spurs 69 points in the Premier League table -- good enough for sixth, which was not good enough for anybody associated with the club. Suffering a treble defeat to the crosstown North London team was insulting enough, but suffering one to the likes of West Ham was pitiful.
There were many disappointments throughout the season, which culminated in the second firing of a manager within five months when chairman Daniel Levy let Tim Sherwood go, to the surprise of no one. Supporters might take a measure of comfort that, despite playing underwhelming soccer for much of the season, Tottenham nevertheless qualified for the Europa League and finished above Manchester United for the first time in a generation. But even when winning, Spurs displayed a distinct lack of inspiration and, all too often, passion. When off-season acquisition Paulinho styled after scoring against Villa -- this just a week after making like a matador when "defending" a free kick at West Ham -- it reminded me of how I felt when Emmanuel Adebayor dared break out his dance moves when he scored his 5th league goal last season... in the club's 37th match. One might hope Lewis Holtby's spirit will prove infectious for Paulinho now that the midfielder returns to Spurs from his loan spell with now-relegated Fulham.
Nevertheless, let's end on a positive note and take some time to recognize the squad's most outstanding player this season. At his position, he may well have been the best the entire league had to offer.
No club wants to have a goalkeeper stand out as its best player. Tottenham's Hugo Lloris said as much late in the season. "If the goalkeeper is man of the match, then it means the team didn't do the job properly." This might partially explain why a vote of Spurs supporters clubs named Christian Eriksen their player of the season. To be fair, the Danish midfielder displayed some excellent skills in his debut Premier League season after coming over from Ajax of the Dutch League. He notched 7 goals and led the club with 8 assists in league play. At times -- most times, even -- he seemed to offer the only creative spark on the attack. And he did so despite Sherwood insisting on playing him on the left wing, away from his natural central attacking slot.
Eriksen was the club's best outfield player this season, and one can see him asserting himself as the club's best overall squad member next season. But this season, it was Lloris. Forget the stats, which are indeed impressive: 14 clean sheets and 103 saves in 37 starts. They don't tell the whole story. Through his combination of catlike reflexes and sweeper-keeper style of play, the French national team goalie had many talking about him as arguably being the league's best netminder. Sure, he made some mistakes now and then, sometimes as a function of his trademark aggressiveness. But on the whole, from August through May he proved to be a constant, stabilizing force in the back even when all else seemed to be falling apart around him.
Lloris suffered a concussion from a collision with Everton's Romelu Lukaku at Goodison Park in November. The keeper stubbornly insisted on staying in the match and helped preserve a 0-0 draw. He returned to play after sitting out just one match on doctor's orders. I myself suffered a concussion on the slopes in January. I'm still experiencing symptoms from it--and I battle computer screens for a living, not world-class athletes. I can't conceive of anyone with brain trauma going back onto the field in a contact sport of any sort so soon. I don't condone it. Tottenham should've handled it all better. But Lloris's injury just makes his season's performance all the more remarkable.
The club has lost its best player in each of the past two summers when Luka Modric and then Gareth Bale departed for Real Madrid. I hope this dubious streak will not be extended to a third year. While one might well argue a star keeper can be replaced more easily than a world-class field general or a freakishly gifted attacking player, the club badly needs to establish a sense of consistency within its culture. Lloris's success in the world's toughest league has undoubtedly caught the attention of a filthy rich club or two in Ligue 1, let alone the rest of Europe. He deserves to play in the Champions League, and one would not blame him if he left for greener pastures. After falling just short two seasons ago and falling apart this past season, Spurs will need to convince Lloris they have a real plan for immediate improvement. The hiring of a visionary manager will be the first step in that direction. And a left back or two wouldn't hurt, either.
Until then, we may look forward to Lloris starring for his country in Brazil this summer, just as we look for Paulinho to relocate his spark with the host nation's team; for Nabil Bentaleb to gain priceless experience playing for Algeria; and for Misters Dembele, Vertonghen, and Chadli to get back in the groove with Belgium. And who knows, after his banishment on loan down to Queens Park Rangers in the Football League Championship, maybe Benoit Assou-Ekotto will stop reading Camus and find his raison d'être while playing for Cameroon.
Stranger things have happened. Just ask a Spurs supporter.