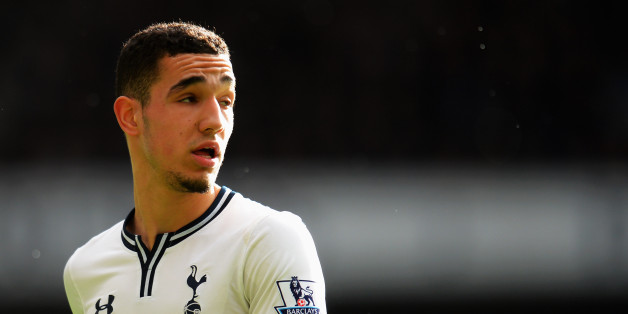 Tottenham Hotspur head coach Tim Sherwood has a weakness for Nabil Bentaleb, and it's had Spurs supporters scratching their heads.
This is not to say the 19-year-old French-Algerian midfielder doesn't have promise. Let's appreciate that Sherwood sees something in a player he helped develop on the U21 squad as technical coordinator, and that the player has indeed shown flashes of things to come. NBC Sports was impressed enough with Bentaleb to name him Man of the Match in Spurs' 1-0 home win over Everton on Sunday.
Bentaleb had a good match, though in truth he was a far cry from Tottenham's best player. (For what it's worth, the club itself didn't list Bentaleb among its three MOTM candidates in social media voting.) Moussa Dembele--who led the team in touches, won all his aerial duels, made 6 tackles, completed 6 dribbles, and passed with accuracy--did the heavy lifting on Sunday.
But for the moment, let's give Sherwood the benefit of the doubt and say Bentaleb is going to be the next Luka Modric and not simply another Jake Livermore.
He's not that yet. At the moment, he's a serviceable midfielder who shows promise but who sometimes looks overmatched and struggles to get into the flow of the match--the kind that might usually find himself loaned out to get solid experience with a lesser club, with less on the line (much as Livermore was this season).
With Bentaleb employed as the defensive mid today in a three-man center, Tottenham looked vulnerable at the start. It was the Leon Osman Show early on as the veteran midfielder got off four shots himself, two on target, in the first eight minutes. Spurs would put just two shots on target in the entire match.
But Tottenham netted the only goal of the match in the 65th minute when Kyle Walker's quick-start free kick released Emmanuel Adebayor for a low shot that he drilled past Everton's American keeper Tim Howard. Outside of those five seconds of brilliance for Spurs, the match was a back-and-forth contest of unrealized potential. Tottenham yielded Everton its share of opportunities but was lucky the visitors were without the injured Romelu Lukaku, their version of Adebayor. When Spurs enjoyed spells of possession, they showed a lack of creativity on the attacking end not dissimilar to that seen in the more moribund games under former manager Andre Villas-Boas.
Sherwood has earned praise for Adebayor's recent resurgence. (Apparently Ade's problem with AVB was that the player knew better "how it is supposed to be.") Christian Eriksen has shone, too. He struggled against Everton playing on the left rather than in his natural central/attacking mid role, but many players will struggle while having to deal with Everton right back Seamus Coleman--as did Aaron Lennon, who was matched up with Leighton Baines on the other side.
Even with Bentaleb's growth, Sherwood's insistence on favoring his pet project continues to confuse, especially when a more polished defensive mid in Etienne Capoue sits on the Spurs bench. Although Bentaleb gradually found his way into the flow of today's match, I've yet to see that he offers the fortifying presence of Capoue, who made three tackles today after coming on for an out-of-sync Paulinho in the 68th minute.
Sherwood's pre-match comments explaining the 19-year old's inclusion in the starting XI provide some insight: "He's got the legs to do two men's jobs and that's why he's in the team." The head coach sees the making of a two-way threat, and as one who tends to favor a 4-4-2, he clearly likes that in a young midfielder. And Bentaleb's experience with the club this season will prove invaluable if he is, indeed, all that Sherwood sees in him.
But is it wise to risk the present for the future when the present sees the club, improbably, just four points out of a Champions League spot with thirteen matches to go? Is it wise to alienate Capoue, who looked like one of the team's stronger players at the beginning of the season, for the sake of being proven right on Bentaleb down the road? Will Sherwood pick Bentaleb even over Sandro when the beastly Brazilian regains full fitness?
And what of Lewis Holtby, a promising player who once played the DM role for Schalke before coming to Tottenham? Will he have a place on this squad when he returns from his loan spell after Fulham get relegated? For his part, Holtby notched a pretty assist in Fulham's 2-2 draw at Old Trafford. (As one member of the New York Spurs Supporters Club noted, it was the best pass of the day by a Tottenham employee.)
And will Sherwood continue to call on Bentaleb to be the man in the middle for Spurs during a fierce March schedule that features successive matches against Chelsea, Arsenal, Southampton, and Liverpool?
In the meantime, Tottenham has gone on an impressive run under Sherwood, though given the club's struggles in late 2013, supporters might be forgiven for being more happy to be in fifth at this point than they are optimistic of reaching fourth. Making Champions League seems to ride upon overtaking Liverpool, who field the season's best attacking tandem in Luis Suarez and Daniel Sturridge and just unseated Arsenal from the top of the table with a 5-1 walloping at Anfield.
It might also ride on the feet of a teenager.