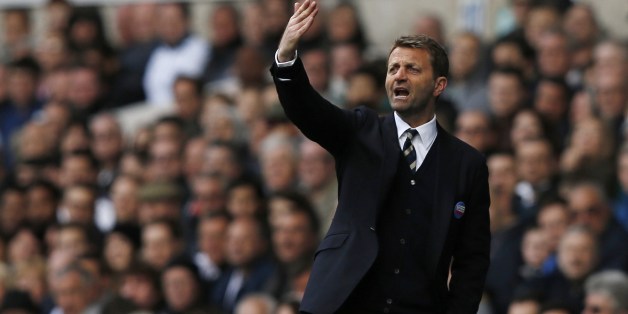 April closes with Tottenham mired in paradox.
In his brief tenure, Tim Sherwood owns the best winning percentage of any Spurs manager in the Premier League era, yet he's all but certain to be replaced at season's end.
Spurs are on target to tie their all-time best point total, established last season with 72, yet sit sixth in the standings and eliminated from Champions League qualification with two matches remaining.
The club finishes unbeaten for the month having taken 10 of 12 points. Yet even these moments of glory have rung hollow. Christian Eriksen's injury time winner against West Brom on April 12 completed a brave comeback as Spurs came away from the Hawthorns with an improbable draw after falling behind 3-0 in the first half hour. But the match belied the continuing struggles of the Spurs back four, exposed yet again as Tottenham conceded a goal in the first two minutes of a match for the fourth time in the league this season--and then another one before the five-minute mark.
Spurs completed a double against a weak Fulham club on April 19 with a 3-1 victory, but even this included the frustration of another Tottenham trademark of late: a defensive letdown immediately following a goal celebration. Two minutes after Paulinho tapped in Eriksen's excellent free kick for the opening score, Steve Sidwell made a run that caught Spurs asleep and -- aided by an assist from Tottenham's Zeki Fryers, yet another defensive error on the season -- put one past Hugo Lloris. This, too, was the fourth time a Spurs goal was answered within three minutes, two of these instances ultimately proving the difference between a win and a draw.
Lapses like these keep teams out of the top 4. After earning control over their destiny late last season with a dramatic defeat of Manchester City, Spurs immediately squandered it the following weekend at Wigan, when the home team equalized two minutes after a dazzling individual effort from Gareth Bale looked to signal another long afternoon for the relegation-bound Latics. Instead, Tottenham had to scrape out a draw, and the two points dropped would prove to be the difference between Champions League and Europa League qualification.
With all the many story lines in this turbulent season--the scoring drought and Roberto Soldado's fall to third-choice striker, parting ways with Andre Villas-Boas, Paulinho not yet proving his worth, Moussa Dembele's continued struggles with consistency, Aaron Lennon's step backward, Sherwood's puzzling team selections--Tottenham's defense is what short-circuited this campaign. It seemed inevitable that Lloris, Spurs' most outstanding player, would vent one day, and vent he finally did last week, not without justification.
The team's response this past Saturday? An uninspiring 1-0 victory in which host Stoke City outplayed Tottenham despite having Ryan Shawcross sent off in the 52nd minute. It was symbolic when Danny Rose, whose solid header converted a scoring opportunity courtesy of Adebayor, later had to be taken off by Sherwood when the fullback let his head be taken out of the game by chippiness from Stoke. Rose's ire was not misplaced, as he was fouled badly by the American defender Geoff Cameron, this not long after Shawcross had stuck a cleat into Rose on a challenge that earned the Stoke defender his second yellow. But Rose needs to learn to keep his cool under such circumstances, especially when his team desperately needs some stability in the back.
For much of the second half, Stoke looked like the team playing with a man advantage, and they might well have won the game if they weren't so poor on the finish. Whereas Paulinho should have been free to do a little box-to-box magic, Adebayor found himself having to track back and distribute in midfield. When defender Younes Kaboul, enjoying fine form in his recent return, made a late run down the left wing and ventured into the box, it was one of the few worthwhile penetrations made by a Spurs player on the day.
With two very-winnable matches remaining, Tottenham seems destined once again for the Europa League whether the club wants it or not. The chance to notch an historic finish above Manchester United seems something less than satisfying as supporters watch former favorites Bale and Luka Modric lead their new club to a Champions League final.