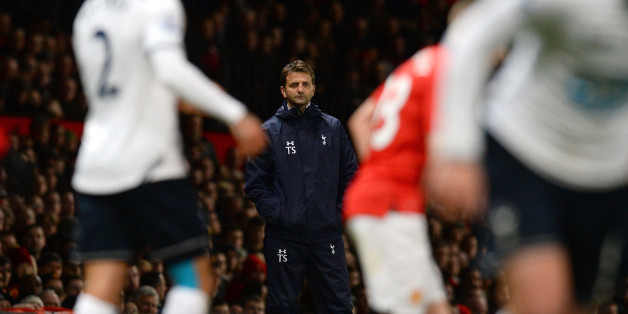 Tottenham Hotspur's gutsy 2-1 victory over Manchester United at Old Trafford on New Year's Day capped an eventful holiday stretch under new manager Tim Sherwood. As this Premier League season is one match past the midpoint and takes a break this weekend for FA Cup play -- for which Spurs have drawn an away match against rival Arsenal -- it's a natural point to stop and take stock of where the club is.
The Positives:
Hugo Lloris. The Spurs goalkeeper is their most polished professional and has been their most outstanding player at his position for the first half of the season. The French international has not only saved Tottenham many points in the standings with his catlike reflexes but also helps the back line with his range and aggressiveness. Possibly the best keeper in the league.
The core four. On any given day, the heart of Tottenham lineup will come from a midfield selected from Paulinho, Sandro, Moussa Dembele, and Etienne Capoue. Paulinho may prove to be Tottenham's best summer signing of 2013; he still lacks a polished shot but is invaluable as a box-to-box engine. Sandro looks like the best outfield player on the club on his day; see his performance against Manchester United one month ago at White Hart Lane. Dembele still struggles with fitness and inconsistency, but just as you're about to write him off, he rises to the occasion with a class performance, as in Spurs' 3-0 demolishing of Stoke on Sunday. Tottenham's midfielders fear injuries more so than opponents, but the depth here is what's keeping Spurs afloat. Capoue has started just two league matches in midfield thanks to an early season injury, but he looked strong both times, and he provided crucial fortification in front of center halves Michael Dawson and Vlad Chiriches on New Year's.
They play on the right. Fullback Kyle Walker can scare Tottenham supporters from time to time. Winger Aaron Lennon's final touch often disappoints. But the link-up play of both players on the right side is one thing that makes this Spurs side special. Walker is a talent, and Lennon's ability to play from flag to flag changes matches.
Christian Eriksen. The Danish midfielder has helped fill the void left by the loss of Rafa van der vaart in the summer of 2012. An injury spell prevented Eriksen from establishing himself as the no. 10, his most natural role, under former manager Andre Villas-Boas. But he's since returned and recorded his first Premier League goal on Boxing Day with a beautiful free kick in Spurs' disappointing home draw against West Bromwich. In the club's last two matches, Eriksen was the nominal left wing in Sherwood's 4-4-2 but was more of a rover, much like VDV would be when Harry Redknapp would pencil him into that role, leading to what blogger Chris Miller described as a lopsided 4-3-3. At Old Trafford, he shrewdly served up the first goal, an Emmanuel Adebayor header, from the right, and then pounced on a deflected Lennon shot to head in the decisive goal. I see a star in the making here.
The disappointments:
Erik Lamela. Yes, he might be incredible one day. Yes, Daniel Levy might turn a profit on him in the future. But Spurs are not Manchester City or Chelsea. They can't spend 30 million pounds on one transfer without seeing some immediate payoff. The 21-year-old Argentinian still looks like a Serie A player. The technique is there, but the toughness is wanting. Lamela's failure to acclimate has been the biggest disappointment of the season so far...
No-goal-dado. ...which is saying something given the start Roberto Soldado has had. Listen, it's not like he hasn't done anything. He's converted 4 of 4 penalties. He leads the club in assists with 4. But he was brought here to score goals, and service or no service from his teammates, one open-play goal in 19 matches is abysmal. He clearly was the wrong man to act as the solo striker in AVB's system. There's hope for Soldado now as Sherwood is pairing him up top with Adebayor, but the drought to date seems to be in his head, and it'll be there until it's not--simple as that.
Kaboom? Formerly the club's best center half, Younes Kaboul hasn't been able to regain fitness.
The man in the box. Yes, chairman Daniel Levy did well in signing Eriksen and Paulinho and Capoue. He also overpayed for Lamela, let the deal for Willian fall through, allowed Benoit Assou-Ekotto to go out on loan without adequate cover for Danny Rose--in the 23-year-old's first season as the first-choice left back--and he approved the transfer of the up-and-coming Steven Caulker to Cardiff City on the apparent assumption that Kaboul would be available for selection. And whether or not you agree with AVB's departure, it became clear in the aftermath that Levy was not on the same page as the manager he brought in only last season.
Given incompletes:
Jan Vertonghen. I fully expect Jan to be listed among the positives by season's end. But first he paid because of his versatility and spent too much time playing out of position while covering for Rose at fullback, then he himself fell to injury. When fit and allowed to play in front of Lloris beside either Dawson or Chiriches, he should re-establish himself as a Premier League XI-caliber player.
AVB. Few saw the manager with Tottenham's highest winning percentage of the Premier League era, the one who was at the helm for their best single-season point total ever, leaving so soon. Despite his faults, which I outlined in my last post, AVB deserved better. It seems unfair for Levy to have allowed the team's all-world player in Gareth Bale to leave, bring in seven new players, and then give the manager less than half a season to enact his master plan. There will always be a "what if" attached in my mind to AVB's brief tenure at Tottenham.
Out of the forest with Sherwood: Ten points from twelve over the holidays were just what Spurs needed after the Liverpool debacle. Just when we thought AVB was the only Spurs manager who could get in Manchester United's head, Sherwood took his freewheeling 4-4-2-ish attack to Old Trafford and won. The key on Sunday was Sherwood's recognition that he needed someone (Capoue, it was) playing a true defensive mid role. And clearly his partnering Soldado with the previously banished Adebayor has been revelatory. Will the club's form be sustainable?
The question marks:
Which Adebayor?Speaking of which, who will we see the remainder of the season? The titanic Togolese who bosses defenders and who looked almost Bale-like on the counter against United? Or the one who can look unmotivated, can disappear, and has a history of wearing out his welcome wherever he goes? (I'm guessing AVB didn't just wake up one day and decide to demote his most talented striker for no reason.) No matter how good Adebayor does in these upcoming matches, one can forgive Spurs supporters for wondering when the bottom will fall out again.
Lewis Holtby. I like this kid. I like his spirit. I like his attitude. I just don't know how well he's going to fit into Sherwood's system. The timing of the managerial change comes at the worst time for the 23-year-old. He was starting matches and had just scored his first league goal last month. I would've liked to see him play interchangeably with Eriksen as a no. 10, but I don't see that happening now. I also don't see him as an effective winger, nor do I see him unseating Paulinho or Dembele in the midfield. Meanwhile, Sherwood clearly likes Nabil Bentaleb, the 19-year-old Spurs academy product who has now played in three of four matches under Sherwood, including white-knuckle time in front of 75,000 at Old Trafford. Holtby's storyline will be interesting to monitor in the second half of the season.
Overall:
Tottenham's season has been one of transformation, one that has seen them replace their best player, then their manager, and rework their style of play. The possession-heavy, goal-light team of the early months has suddenly become a daring-is-doing attacking squad. Spurs sit in sixth, just two points behind Liverpool in fourth, and suddenly the arrow is pointing upward.