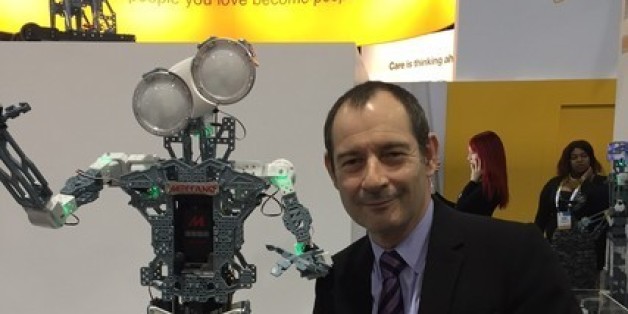 Thinner, faster, brighter, smarter, autonomous and over the top. Who could ask for more? CES delivered, as we expected, significant advances in screens, chips and the application of artificial and networked intelligence to our devices, appliances, automobiles and homes. It also delivered the strongest signals so far that the unbundling of media distribution was at a tipping point.
CES 2015 just may have illustrated, for the first time, both the future relationship between humanity and technology AND the proximity of that future to the present. In turn, this represents the realization of real-time connected consumer experience. The overwhelming sense is that the things we have talked about for years have either arrived or are at least visible choices as we plan our connected lives.
Imagine you were building a new house today. You would lay the foundations. In those foundations, alongside water and power, you would include fiber to carry enough data (the third utility), allowing everything from massive and cheap storage to 8K streaming and the wireless connection of a host of intelligent devices. Having done that, you would add a router that would replace almost every wire in your current home, and in doing so, allow for faster and fear-free replacement of hardware that is plummeting in price quickly enough to insulate you from buyer's remorse and the need to attack drywall every time a new or better device took your fancy.
That's a good thing; 4K is here. 12 million units were shipped, mostly to Asia in 2014, and Japan expects the 2020 Olympics to be an 8k experience. By the time we get there, we make be enjoying OLED and Quantum Dot displays for less than $20 per screen inch and the (virtual) reality of Oculus Rift and retina image delivery from Avegant Glyph.
The consumer is a clear winner here, but the content creators are winners also. The cinema exhibitor industry may well be a big loser as in-home experiences become far superior and the makers of content shift their distribution windows in which "at home" first runs are the most profitable route to market.
Your new home won't just be a place of shelter, movie theater and healthcare hub, but instead, another node on your personal operating system that understands everything from your blood pressure to the freshness of your food, the energy you use and need. It will be the charging station for your car which you may or not ever drive yourself, but will be another node from which you set the dials of other experiences.
As ever, GroupM Global Chairman Irwin Gotlieb found a way of reducing it to a sentence: "The short term challenge for automotive technology is to avoid distracting the driver, until such time as technology has advanced to the point when there is no driver to distract."
That same vehicle will have intelligence of its own and also future-proof itself through remotely updatable software that ensures it keeps pace and stays integrated with the rest of your personal cloud managed through a single peripheral, your smartphone.
That cloud will be the core element of your new unbundled media experience. You may own or store content, but you won't be at the mercy of the carriage choices of your infrastructure company. Instead, you'll be the specifier of your own menu of à la carte and over-the-top delivered content. You will pay for sure, but you will get what you pay for and nothing else. Precision decisions for all of us.
Perhaps the most encouraging news of all is that a new generation of standards is emerging. IOS (Apple), Android (Google) and Tizen (Linux open source) are beginning to appear in every imaginable device allowing phones, displays and vehicles to share a common language. Another key element of future-proofing.
Of course, CES showed us "new new" things (who can resist a self-balancing skateboard from IO Hawk?) as well as iterations of old new things, but the overwhelming impression this time was that CES was for us, not just Marty Mcfly or the Jetsons.
A final observation on CES itself: 2015 also illustrated that the focus of technology "announcements" continues. As automotive uses CES to expand its footprint beyond the car shows, others, including Motorola, have abandoned CES for Mobile World Congress and the imaging industry has begun to focus on Photokina and its 180,000 attendees in Cologne. Travel plans for Cologne, Barcelona and Vegas for 2016 are in progress.
@robnorman with many thanks to Irwin Gotlieb, Mike Dowd and Cary Tilds.