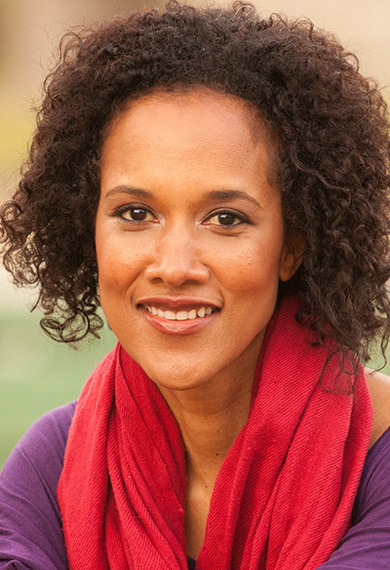 This is an interview with Itzel Berrio, also known by her yoga community as Kamala. She was a lawyer for over a decade before becoming a registered 500-hour yoga teacher and a certified teacher of yoga philosophy. She is the founder of Attuned Living, which aims to improve the lives of lawyers and other mid-career professionals through life and career coaching, yoga, meditation, and trauma healing services. She also co-founded WiseHeart Lawyering, which offers trainings to attorneys in compassionate, effective communication. She has a degree in psychology and is working toward becoming a community counselor in trauma prevention and recovery.
In 2011, she began her yoga service work at St. Vincent de Paul Society Wellness Center in San Francisco. There, she serves at-risk and underserved adults who are facing drug and alcohol addictions and mental health challenges, are primarily homeless or marginally housed, and are living in poverty. Find her on Facebook at Attuned Living and follow her on Twitter at @attunedliving.
Rob: What originally motivated you to do this work, and what continues to motivate you? How, if at all, has that motivation changed over time?
My own experience with yoga was what originally motivated me to share its healing power with others. I am a survivor of childhood trauma, and struggled with anxiety and other trauma-related symptoms before I discovered yoga. In 2001, after I attended my first Integral Yoga class, I entered into a state of peace more profound than I'd ever experienced. It was then that I decided to one day become a yoga teacher, although it took me 10 years to do it!
During that time, I practiced law in San Francisco, including impact litigation and public policy work in social and economic justice. I could not live in San Francisco and do this work without a growing awareness of the thousands of homeless and marginally-housed people in this city--including in my neighborhood. In my work, I was profoundly inspired by Martin Luther King Jr.'s words, "True compassion is more than flinging a coin to a beggar; it comes to see that an edifice which produces beggars needs restructuring."
During those years I also studied trauma. I came to a deeper understanding of trauma that results from living in a violent, exploitative, or oppressive social system. I became increasingly interested in supporting individuals in their own healing, while helping work toward "restructuring the edifice"--our society--that produces homelessness.
Is there a standout moment from your work with the St. Vincent de Paul Society Wellness Center, or the populations that they serve?
One student came to my first class with a back injury so severe that he walked with his torso at a 45-degree angle. After just a few classes, I noticed a dramatic improvement in his posture. When I commented on it, he told me he was practicing yoga every day. Knowing a bit about the challenges that he faced in his living situation, I was deeply moved to hear about his commitment to his practice, and how much it was helping him heal.
What did you know about the population you are working with before you began teaching? What were some of the assumptions you had about this population and how have those assumptions changed?
I didn't know whether yoga would be of interest to this population. I worried that my classes would seem irrelevant or non-essential. I was wrong: classes are often full, and the students are eager to be there. Many of them have practiced yoga in the past. One even told me that he had lived in the spiritual community founded by Paramahansa Yogananda, the yogi and teacher who wrote Autobiography of a Yogi. It was yet another reminder that, although I call myself the yoga teacher, my students are just as much my teachers as I am theirs.
What are two distinct ways that your teaching style differs from the way you might teach in a studio, and what are the reasons for these differences?
Because of the largely transient nature of many of my students, I may see people just once or twice. (My other classes are made up almost entirely of regular students.) I've learned to adjust my classes to include fewer poses, more thorough direction on how to practice outside of class, and, occasionally, handouts. Also, many students don't have easy access to props commonly found in yoga centers and studios. So I demonstrate how to use everyday objects, such as chairs, blankets, pillows, and even clothes, as props.
What has been the greatest challenge in your teaching experience and what tools have you developed for addressing that challenge?
I've had students come to class in a variety of emotional and mental states. I've had students fall asleep in class. Once, a student sat in a chair and read the entire time ... and then afterwards thanked me and said he really enjoyed class! I've learned to let go of my ideas of what class--or anyone's practice--should look like, and to allow students to take what they need. I usually encourage them to get on the mat and try, but trust whatever choice they make.
What advice would you give to anyone who is going to teach in the population you work with?
Be prepared to be inspired.
As someone who has worked with trauma survivors, I was aware of the possibility of experiencing what is sometimes called vicarious trauma, or compassion fatigue. Just the opposite has occurred: I've been profoundly inspired and transformed by witnessing the heart and strength of these students. Many of them go through challenges daily that seem insurmountable to me. I see them facing these hardships with grace, humor, and courage. I am grateful to know them.
What are some of your ideas about, or hopes for, the future of service yoga in America in the next decade?
I am happy that yoga is becoming more popular. But it's often marketed to a very specific demographic group. I worry that this makes yoga seem inaccessible or unappealing to those who don't look or live like the people pictured in yoga magazines. The yogic teachings are for everyone, and are priceless. I hope yoga becomes more widely available to all people, regardless of their demographic characteristics, physical ability, or economic means.
How has this work changed your definition of service? Your definition of yoga? Your practice?
When I initially approached the St. Vincent de Paul Society Wellness Center about teaching yoga there, I thought I was offering to give them something. But the gift is truly mine. I receive so much from the students. They are doing me a service by attending classes, by being present with me, and by sharing their knowledge and experience.
What other organizations do you admire?
I admire the Integral Yoga Institute and its commitment to the classical yoga teachings. It offers donation-based classes and events, making yoga more accessible. I also deeply admire East Bay Meditation Center (EBMC) in Oakland, California, for its commitment to diversity, accessibility, and generosity. Rather than charging registration fees, EBMC invites participants to make voluntary gifts at the end of each event.

Editor: Alice Trembour
Stay connected with Give Back Yoga Foundation as we share the gift of yoga with the world, one person at a time, by following us on Facebook, Twitter and Google+ and by subscribing to our newsletter.