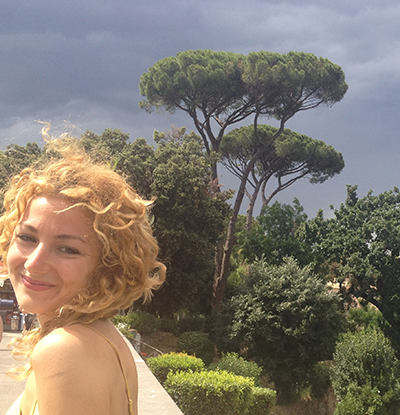 This is an interview with Lilly Bechtel, who has been volunteering in correctional facilities since 2005. In 2010, Lilly became certified in a trauma-sensitive yoga style, and for two years offered a trauma sensitive yoga class in the Post-Traumatic Stress Disorder (PTSD) clinic of a veteran's hospital in the Bronx. Her Elephant Journal series "At Attention, At Peace" is a forum for sharing these interviews, hoping to open up a greater dialogue between the military and the yoga communities. She is currently working on a book based on interviews with veterans, teachers and officials in the military about the effects of yoga on PTSD.
Rob: What motivated you to work in a correctional facility, and then a VA hospital? What was the particular moment in which you knew that this was something you wanted to invest your time in?
As a teenager I spent some of my high school years in and out of treatment centers for substance abuse and an eating disorder. The year I was asked back to my private liberal high school as a senior, perhaps because of my own recent experience with addiction and recovery, I chose to study the history of women's prisons in America.
It was through this study that I learned that if I had belonged to a different race or class, my own troubles with addiction were more likely to have been met punitively rather than compassionately. I discovered that the belief that a person can change is in itself a privilege, and one that not everyone in America is granted.
That winter I was accepted to Bard College and spent the next four years offering a poetry workshop at a women's prison. This experience strengthened my belief that self -expression and education are some of the most promising seeds of a healthy democracy and some of the most glaring absences in the American penal system.
In 2010 I attended a trauma-sensitive yoga training at Kripalu. At this training I listened to an Iraq war veteran named Hugo tell the story of his first yoga class. It was through hearing his story that my work with veterans began. Hugo Patrocinio is a Marine who had served in three deployments and had just been diagnosed with post-traumatic stress. On the day of his first yoga class he was suicidal, suffered from insomnia, flashbacks, sleep paralysis, and he was on eight different medications. Hugo had never done yoga before. He sat down reluctantly on his mat. He noticed his breath. Forty-five minutes later when class was over, the teacher woke him up. "And that's when I realized that I felt rested for the first time in years," Hugo told us.
Hugo is now off all his medications, regularly practices yoga and meditation, and is a student of psychology at the University of Miami. "I believe that yoga saved my life," he says.
After leaving Kripalu in 2010, I was called to work with this population and spent the
next two years teaching at a PTSD clinic at a veterans' hospital in the Bronx. Once a week, I gathered chairs in a circle. I told my students to feel their feet on the floor. I told them to notice the sounds in the room. I invited them to raise their hands off their lap when they inhaled, and release them when they exhaled.
Although I didn't know it at the time, I now understand that I was drawn to work with veterans for the same reason that I was drawn to yoga in the first place: because it is a practice that shows me that becoming supple is a strength. The ability to stay present to the self and walk through all seasons with grace is the way of the yogi, but also of all great warriors.
From the interviews in At Attention: At Peace we learn that yoga is effective in addressing PTSD, both in terms of objective evidence, but also in terms of subjective narratives among veterans. Why aren't more classes offered to them?
I sat in on a class this past summer at a veterans' hospital in DC. Before the meditation began, an older man who had fought in Vietnam wanted to share that his son, who had recently returned from Iraq, had finally sought help for his PTSD. "I've realized that coming here is not selfish at all," he said. "Taking better care of myself has made me take better care of the people I love."
Throughout the next hour as the teacher guided us through practices of internal awareness, loudspeakers in the hospital blared, there were loud knocks at the door, and people came in twice, looking for another room. Toward the end of class I opened my eyes and saw the man who had spoken with a look of vibrant, amazed happiness radiating across his face. He was smiling as if he had discovered a magic trick.
So yoga and meditation really matters to some, and is the catalyst that is working best toward healing other areas of their lives. And while it's exciting to me that yoga is starting to become more accepted in Western treatment, it is still hard for research to use subjective accounts as a viable reason for funding.
"Taking better care of myself has made me take better care of the people I love." If someone said this of a therapy session, wouldn't it be taken as ample evidence that the therapy was useful? I believe that when the positive personal experiences of veterans are taken into account and regarded as reliable evidence, then we will start to see fundamental change in the availability of mindfulness programs.
I'm interested in the objective of At Attention: At Peace. Who is the audience for this book, and what kind of opportunity does it present to readers?
When I left that DC class that morning, I rode back to the city with an Iraq war veteran named Ben King. He is an active attendee in the meditation class at the VA, a personal trainer at a local gym, soon to be a father, and a passionate advocate of providing yoga and meditation to veterans.
As we were pulling out of the hospital, we turned on the radio to find coverage of the current suicide rates among veterans. The broadcaster shared about a young veteran who hanged himself in the mental health ward of a hospital. The speaker went on: "When you knock on the military's mental health door, often nobody answers."
But there I sat, next to someone who had struggled with the pain of PTSD and had found a practice that had helped him regain his life. He looked as if he wished he could reach through his stereo and take hold of the man who had killed himself and tell him that it could have been different.
So this is my main hope for service in writing At Attention, At Peace: to connect veterans who have found yoga with those who are struggling with PTSD. It is another small way of being of service to all those who have been of service to me.
Need help? In the U.S., call 1-800-273-8255 for the National Suicide Prevention Lifeline.

Editor: Alice Trembour
Stay connected with Give Back Yoga Foundation as we share the gift of yoga with the world, one person at a time, by following us on Facebook, Twitter and Google+ and by subscribing to our newsletter. You can help us meet our goal of putting evidence-based Yoga For Veterans Toolkits in the hands of 10,000 returning soldiers this year by making a one-time or recurring donation in the amount of your choice.
Do you want to bring the transformational power of yoga and meditation to underserved populations? Join Give Back Yoga at the Sedona Yoga Festival in February for a two-day Mindful Therapeutic Yoga Practices for Veterans pre-conference training that provides yoga teachers with clinically-proven techniques to help students recover from trauma and emotional stress.