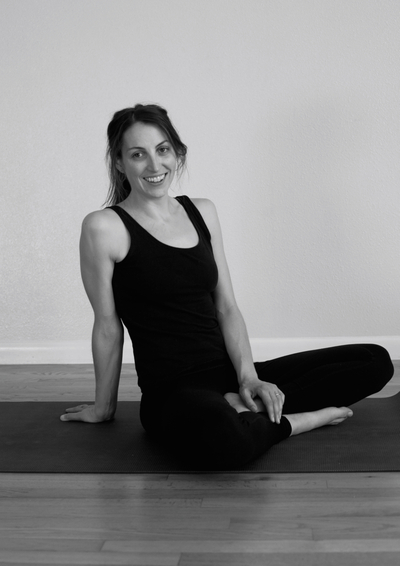 This is an interview with Shayan Landrum, who first studied yoga in Mysore, India, with Pattabhi Jois in 2006. Hooked on Asthanga yoga, she returned to her home of Boulder, CO, and continued to study under Richard Freeman and Mary Taylor at The Yoga Workshop.
In 2010, Shayan suffered serious head and neck injuries in a car accident and used yoga in her recovery. Nine months later she underwent open-heart surgery, and relied on yoga to recover her health and strength. She then completed a teacher training with Richard Freeman and Mary Taylor, followed by a teacher training in Cardiac Yoga with Mala Cunningham. She teaches yoga at a Boulder hospital and at The Yoga Workshop.
Rob: What originally motivated you to teach yoga in a hospital, and what continues to motivate you? How, if at all, has that motivation changed over time?
Many people who suffer from serious health problems spend a significant amount time in a hospital. They typically have a variety of appointments with doctors and therapists, and much of their time is consumed traveling among medical professionals. Providing a yoga class in a hospital setting allows patients to have access to yoga in a convenient location.
In addition, for patients who have serious health conditions and are only just beginning their recovery, there can be anxiety about increasing their activity levels. Knowing that they are in a hospital while engaging in new activities and pushing their limits can provide comfort and a feeling of safety.
Since I began, I have become only more motivated, as I see interest grow in patients, staff, medical professionals, and others. Since I started teaching yoga at the hospital, new yoga classes have been added, both for employees and patients.
Is there a standout moment from your work with heart patients?
One of my students is in his 80s, has had multiple heart procedures, and this was his first yoga class. I think he probably would have been unlikely to walk into a hip yoga studio full of young people. But the class is in a medical setting, where he also has other appointments with providers with whom I communicate. That convenience and security encouraged him initially into the class, and he has continued, becoming one of the most dedicated students. And, while the class is challenging for him, he has experienced significant improvement in his ability to move, and he enjoys testing his own limits.
What did you know about cardiac patients before you began teaching?
As a cardiac patient myself, I felt a particular affinity for working with this population. I understood that having a medically invasive heart procedure has physical, mental, and emotional impacts. I also understood that having a heart condition is something you never truly forget about. It is a background concern that perpetually lingers. This is one of the primary reasons a yoga practice can be so beneficial to heart patients. It can teach them to create a space where they can successfully regain comfort in moving their bodies, while letting go of perpetual anxieties.
What are distinct ways that your teaching style differs in the hospital from the way you might teach in a studio, and what are the reasons for these differences?
In the class I teach for heart patients, I initially request clearance from a physician, as well as background medical information. As in any class, I modify for the students present. And for students who have particular medical conditions, I speak with them in advance about poses that we will have to modify for them. Twists, inversions, and poses that put weight on the upper body can all be problematic. High blood pressure, irregular heart rhythms, breathing difficulties, and particular medications are some of the biggest medical concerns.

What advice would you give to anyone who is going to teach with a medical population?

Be persistent and focused. Hospitals are large entities, and approaching them can be confusing. Often it's difficult to know which department or person to approach, and answers can change from one facility to the next. It helps to find someone within the hospital who can be an ally. Good advocates are a physician or nurse interested in integrative care, an employee wellness committee, or a specific center, such as a heart or cancer center. If you get no response or a negative response, perhaps try a different avenue in the same hospital. Most likely, there is an ally somewhere.
I really wanted to teach yoga, but the hospital where I work did not have any classes at the time. Persistent, I finally offered to teach six weeks for free, at the end of which I handed out a survey to students. The feedback was excellent, and so yoga for heart patients became a regular class. That was eight months ago. We now have additional yoga classes for back pain and pregnancy, and in March we will begin an employee yoga program.
What has been the greatest challenge in your teaching experience, and what tools have you developed for addressing that challenge?
Consistent referrals. Many medical professionals were excited about the yoga program initially, and referred their patients. But everyone in medicine is busy, preoccupied, and often stressed. It's easy for them to forget about yoga, so I like to find opportunities to remind them about why I am there and the classes that I offer.
What are some of your ideas about, or hopes for, the future of "service yoga" in America in the next decade?
I've been eager to expand the yoga program at our hospital. Fortunately, we are headed in that direction. We now have yoga classes for three different medical populations. And in March I will begin teaching yoga classes to employees on lunch break in the main hospital.
How has this work changed your definition of service? Your definition of yoga? Your practice?
I see service as being willing to provide something that may not even exist yet--convincing others of the need. My own yoga practice has been so significant in my life that it fuels me to tackle obstacles as I try to bring yoga to others. Being so thoroughly convinced of the benefits of yoga on a daily basis gives me the strength to continue to try to break new ground in challenging territory. I want to share the beauty and profundity of the experience with others.
Editor: Alice Trembour
Image: Courtesy of Matthew Champoux
Stay connected with Give Back Yoga Foundation as we share the gift of yoga with the world, one person at a time, by following us on Facebook, Twitter and Google+ and by subscribing to our newsletter.

Are you a yoga instructor giving back to underserved populations? E-mail Executive Director Rob Schware if you're interested in being interviewed for this series. Thanks for all that you do in the name of service!