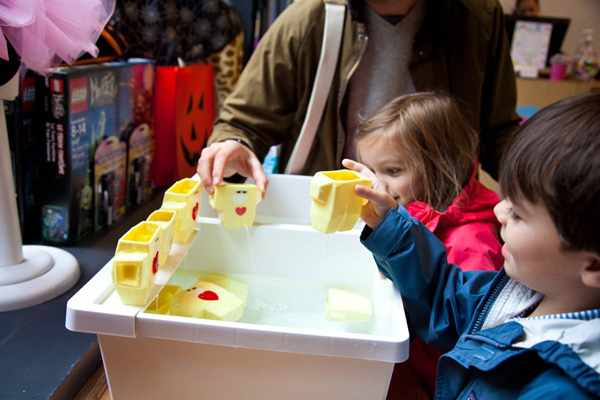 A family playing at the UBBAS Bath Cups launch party, Doodle Doo's in NYC, October 2012 (photo by Brian Lynch)
Conversation is the most powerful tool the LGBTQ community has in the fight for equal rights. Outlets like The Trevor Project and It Gets Better allow us to change hearts and minds by vocalizing our own stories. My story begins with a tearful coming out to my family. Inspired by the difficult conversations that followed, I soon set out to design an object that would inspire a healthy and honest dialogue about sexuality. What started as my product design thesis at Parsons has become UBBAS Bath Cups, a set of rinsing cups that pee and love. The most candid, moving and hilarious conversations about our bodies happen as a family during bath time, and UBBAS provide parents a fun entry to talk with their children about our bodies and our families.
Guided by SIECUS and a graduate psychology class at The New School for Social Research, my thesis was founded on the fact that sexuality emerges during toddlerhood and that a child's first behavioral model is his or her own family. For me, coming out as an adult would have been so much easier had my family started a dialogue about sexuality when I was a toddler. UBBAS Bath Cups use bath-time rituals we already know and love to explore the traits that make us different and discover the threads that make us the same.
Individual UBBAS Bath Cups form UBBAS families. Mamas and Papas are big cups; Brothers and Sisters are small cups. Parents can use them to rinse their tots, and in so doing they'll notice that each squishy plastic cup has a strategically placed hole to tell the sexes apart. They pee! Mamas and Sisters pee sitting down; Papas and Brothers pee standing up. They're yellow, the color we paint the nursery if we don't know the sex of the child we're expecting, the color of rubber duckies and, of course, the color of pee!
Each cup has rigid lines that that allow them to connect like building blocks. Each adult cup has a special half-in, half-out heart that becomes complete when that adult cup is put face-to-face with another adult cup. Mama and Mama, Papa and Papa, or Mama and Papa can all "hug hearts" to love romantically. Brother and Sister also have hearts, but, as a parent might explain, they are not yet capable of romantic love. That's why all UBBAS can "hold hands" to show friendship and family unity. Each cup was designed to be purchased separately, allowing parents and toddlers to build their own families and to tell any family's story.
UBBAS Bath Cups are meant to encourage parents and children to play and have healthy discussions about our bodies and families during bath time. Their presence within the marketplace and in our bath tubs serves as a reminder that our own stories are the most powerful agents of change. The earlier we talk, the more we listen, the more we understand and the more acceptance we'll bring outside the tub. No matter what family structure is reflected in your set of UBBAS, three universal themes prevail: We all pee, we all love and we are all family!
For more information about UBBAS, please visit ubbasfamily.com.